Exposition : L'écume dan' ciel
Exhibition at Le Tampon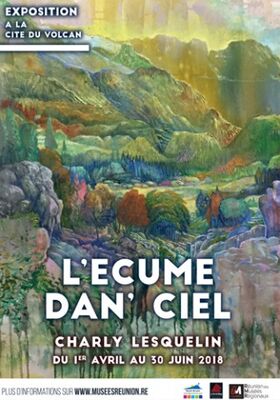 Charly Lesquelin fait partie de cette génération d'artistes qui ont démocratisé l'art. Au début des années 80, ce peintre originaire du Tampon, mais qui vit aujourd'hui à Saint-Joseph et travaille à Saint-Pierre, arpente les manifestations populaires de l'île. Il commence sur les Faits mains et se fait vraiment remarquer aux Florilèges, au Tampon.

Pendant 16 ans, il réalise à chaque édition des portraits en live. "Je n'oserai pas le dire moi-même, précise Charly Lesquelin avec une vraie modestie, mais les gens disaient que je faisais "entrer l'art chez le créole"." Il multiplie les expositions dans les écoles et les associations. À mesure que sa renommée augmente, il devient aussi un exemple pour les artistes en herbe.

"D'un coup, ça devenait possible de devenir artiste", précise Charly Lesquelin qui a lui même bataillé pour imposer son choix professionnel auprès de sa famille. "J'ai baissé la tête et j'ai travaillé", commente-t-il. Après un parcours scolaire un peu chaotique, il suit un CAP de dessins publicitaire et se fait rapidement un nom. Il se spécialise aussi comme peintre en lettres.

"Mais l'arrivée des ordinateurs a cassé le marché même si mes concurrents adeptes du numérique, m'ont parfois demandé de peindre des logos que leurs machines étaient incapables de dessiner." Définir son style n'a rien d'évident. Lui-même reconnaît être atteint de "schizophrénie artistique. Je suis moderne et en même temps j'ai un pied dans la case mémé. C'est ça que je peins : un mélange entre tradition et modernité."
Leave a review about Exposition : L'écume Dan' Ciel :
Horrible

Bad

Average

Good

Excellent
There is no review about Exposition : L'écume Dan' Ciel, be the first to leave one !