Festival Embarquement Immédiat
Workshops , Concert , Exhibition , Festival , Show at Saint-Leu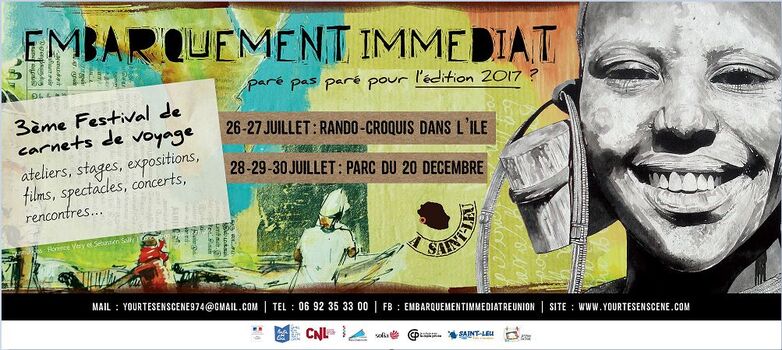 Cet événement sur le carnet de voyage, nouvelle forme de littérature en plein développement, se déroulera en présence de 17 artistes venus de divers horizons : La Réunion, Madagascar, l'Espagne, la Belgique et la métropole : Guillaume BENOIT, Laurence BURVENICH, Laurent CORVAISIER, Marielle DURAND, DWA, Géraldine GABIN, GRIOTTE, Marie-Pierre MANECY, Frédéric MARTIN, Phil QUETIN, Sébastien SAILLY, Santi SALLES, Stéphane SERVANT, Ornicar TAKITO, Florence VITRY, Karine ZIN.

Une dizaine de randos-croquis seront organisées en amont du festival dans différents endroits typiques de l'île : Tour des Roches, Mascarin Jardin Botanique, Terre-Sainte, Entre-Deux, Saint-Leu, les marchés ...

Les carnettistes proposeront une quarantaine d'ateliers aux festivaliers dans le Parc du 20 décembre à Saint-Leu : écriture, illustration, peinture, photographie, sérigraphie, gravure et autres techniques permettront aux visiteurs de voyager en réalisant leur carnet. Des ateliers sont proposés aussi avec nos partenaires, Babook, Lézard créatif et Les Rencontres Alternatives.

Embarquement immédiat fait partie des 68 événements régionaux labellisés par le CNL dans toute la France et en Outre-mer avec des animations originales. Ces animations se dérouleront dans le Parc du 20 décembre : Le portait magique, le chuchotali, fabrication de badges et de magnets, lecture sous une tente berbère, carnets sonores, Kapla.

Des expositions de tous les carnettistes et des photographes seront à découvrir à l'Hôtel des Postes de Saint-Leu, et dans les médiathèques de Piton Saint-Leu et de la Chaloupe.

Le festival se déroule aussi en soirée à Yourtes en scène : projection de films à 18h : "Les semeuses de joie" de Caroline RIEGEL, "Portraits de voyage" de Bastien DUBOIS et "A toi de jouer" de Lova NANTENAINA.

La musique, c'est aussi une façon de voyager. Après les projections, des concerts : Tiloun, Danyèl Waro en concert dessiné par les 17 artistes du festival, Kisa Kosa, Roulèr Killer.

Une restauration est prévue sur place.
Leave a review about Festival Embarquement Immédiat :
Horrible

Bad

Average

Good

Excellent
There is no review about Festival Embarquement Immédiat, be the first to leave one !