Fête de l'ananas 2017
Local event , Concert , Exhibition , Market , For children , Show at Le Tampon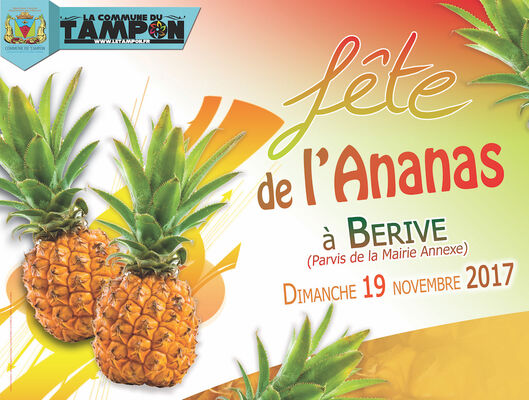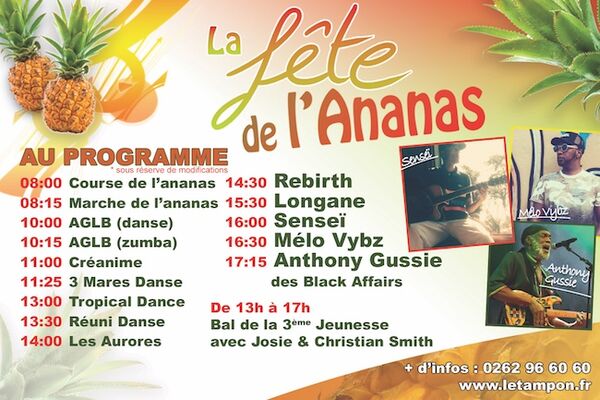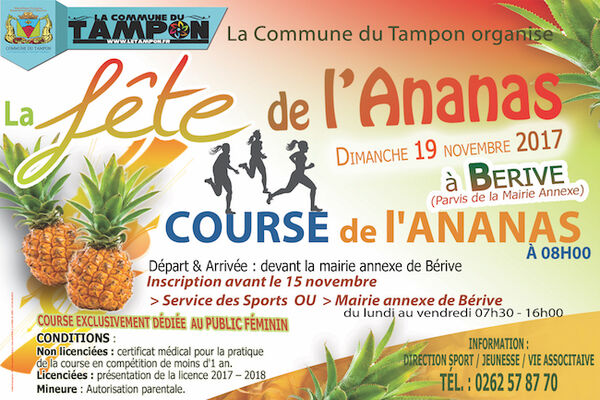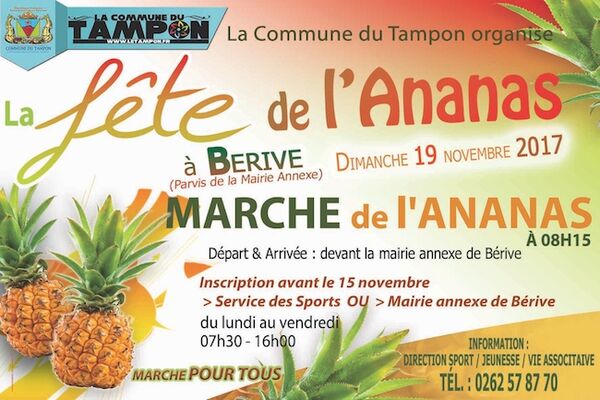 Au programme de cette journée :

- 08h00 : Départ de la "Course de l'Ananas"
- 08h15 : Départ de la "Marche de l'Ananas"
- 09h00 : Discours d'inauguration
- 10h00 : AGLB (danse)
- 10h15 : AGLB (zumba)
- 11h25 : 3 Mares Danse

De 13h à 17h retrouvez Josie et Christian Smith au bal de la 3ème jeunesse.

- 13h00 : Tropical Danse
- 13h30 : Réuni Danse
- 14h00 : Les Aurores
- 14h30 : REBIRTH
- 15h30 : Longane
- 16h00 : Senseï
- 16h30 : Mélo Vybz
- 17h15 : Anthony Gussie de Black Affairs

Toute la journée vous découvrirez des dégustations de produits à base d'ananas, des manèges, des balades équestres, de la vente d'ananas, de la distribution de glace ...

La ville du Tampon propose également une épreuve pédestre de 4,2 kms.
Cette course est exclusivement dédiée au public féminin, ouverte aux licenciées et aux non-licenciées de plus de 14 ans.
Le départ est prévu à 8h00 devant la marie annexe de Bérive et l'arrivée est au même lieu.

Informations pratiques :

Pour les licenciées il faut présenter la licence 2017-2018 et pour les non-licenciées un certificat médical pour la pratique de la course en compétition de moins d'1 an.

Mais ... vous pourriez participer aussi à une épreuve de marche ouverte à tous !
Le départ de cette épreuve se fera à 8h15 devant la mairie annexe de Bérive et l'arrivée se fera au même lieu.

Venez nombreux et nombreuses fêter l'ananas !!!
Leave a review about Fête De L'ananas 2017 :
Horrible

Bad

Average

Good

Excellent
There is no review about Fête De L'ananas 2017, be the first to leave one !