La Plaine des Cafres Lontan
Exhibition at Sainte-Rose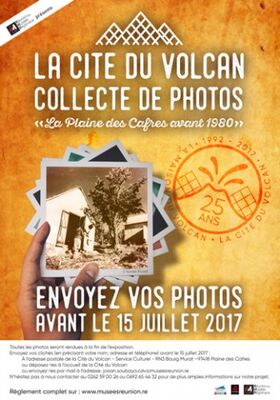 Dans le cadre de la célébration des 25 ans de la Maison du Volcan et de son projet de collecte de mémoires, la Cité du Volcan fait appel à la participation des habitants ou résidents de la Plaine des Cafres pour partager leurs photos-souvenirs : paysages, quartiers, monuments, scène de vie lontan...

Les photos feront l'objet d'une exposition à la Cité du Volcan à compter du 1er août 2017 et jusqu'au 31 décembre 2017, elles seront également publiées sur le site des musées régionaux et sur le Facebook de la Cité du Volcan. Tous les participants sélectionnés seront invités à la manifestation "L'Ambians' Volcan" organisé le samedi 5 août après-midi à la Cité du Volcan, où auront lieu des conférences sur la Plaine des Cafres et ses alentours ainsi que des projections et échanges autour des porteurs et anciens guides du volcan.

A noter :

Toutes les photos seront rendues à la fin de l'exposition.

Informations pratiques :

Envoyez vos clichés (en précisant votre nom, adresse et téléphone) avant le 15 juillet 2017 :
- A l'adresse postale de la Cité du Volcan - Service culturel - RN3 Bourg Murat - 97418 Plaine des Cafres
- Ou déposez-les à l'accueil de la Cité du Volcan
- Ou encore envoyez-les par mail à l'adresse josian.soubaya.cdv@museesreunion.re

D'avance merci pour votre collaboration, vos souvenirs sont la mémoire de La Réunion !
Schedules

From

July 15, 2017

until

December 31, 2017
Leave a review about La Plaine Des Cafres Lontan :
Horrible

Bad

Average

Good

Excellent
There is no review about La Plaine Des Cafres Lontan, be the first to leave one !