La semaine créole
Local event , Lecture , Show at Saint-Leu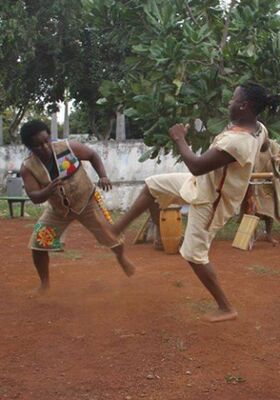 Au programme :

- Vendredi 27 octobre de 16h à 20h

Coup de projecteur littéraire : "Langaman, ou l'Amour érigé en dogme de vie de Luçay Permalnaïck. Auditorium. Entrée libre dans la limite des places disponibles. Animations en partenariat avec l'Association Tré-d'Union.


A partir de 16h : conférence de Sully Govindin sur le thème "Migrations Indiennes vers La Réunion et rapatriements hypothétiques / Projection du film "Zangazé Malbar" (10 min) / Présentation du livre suivi d'un débat / Séance de dédicaces de l'auteur / Exposition / Animation musicale avec la Troupe Rézonans et Les frères Lagarrigue / Moment de partage autour d'un verre.

LE LIVRE : "Langaman ou L'amour érigé en dogme de vie : roman historique".

Résumé : 1993, village du Portail à Piton Saint-Leu, Ile de La Réunion. A la fin de sa vie, Vellaydom Permalnaïck, 92 ans, s'interroge sur l'histoire de sa famille sur l'île. Ses ancêtres, des Engagés indiens, sont arrivés il y a deux siècles. Il s'entretient par la pensée avec son père qui est reparti en Inde en abandonnant sa femme et ses enfants.

- Samedi 28 et dimanche 29 octobre de 9h30 à 17h30

* Initiation aux instruments de musique traditionnelle
* Performance de moringue & maloya par l'Association Saint-Leusienne MORING ANGOLA. En extérieur. Accès libre.
* Performances slamées en créole dans le musée. En partenariat avec l'Association SLAM LA KOUR à 11h et à 15h. Intérieur du musée
* Dégustations de produits péi à la boutique (confitures, achards, bonbons..) + le traditionnel riz chauffé créole !

- Dimanche 29 octobre

* Présentation de l'exposition "Demoune partou, la lang issi" par Axel Gauvin + débat
En partenariat avec LOFIS LA LANG KREOL. En extérieur. Accès libre.
Leave a review about La Semaine Créole :
Horrible

Bad

Average

Good

Excellent
There is no review about La Semaine Créole, be the first to leave one !