Le Fangou'Rire 2018
Show , Theatre at Petite-Île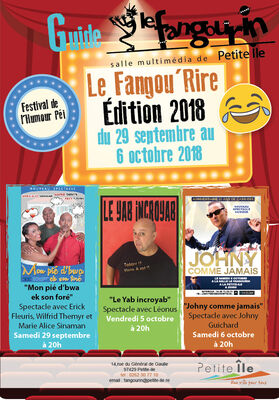 Au programme :

* Samedi 29 septembre à 20h

Erick FLEURIS et Wilfrid THEMYR, ont été en duo pour Kaf Punk ... Les voilà de retour pour un trio avec Marie Alice SINAMAN.
Na un temps pou tout' zafér. Nou la fé les choses dans l'ordre pourtant, nou la marié, fé et éleve nout zanfan, alors kan zot i sava pran zot vie en main, c'est nou qui reprend la notre à deux. Dans le meilleur des cas sa ... ou choisi pa out fami et kan out frère jumeau i vyin cri a ou au secours, ou répon', na un même cordon que la nourri a zot foutor ! Mais sa, au détriment de ...
Une tranche de vie réunionnaise avec trois humoristes qui partagent la scène depuis plusieurs années sous la houlette de Thierry JARDINOT.
Nou mankra pa de grossir les traits pour le plus grand bonheur de nos spectateurs fidèles ... même si parfois la réalité i dépasse la fiction.

* Vendredi 5 octobre à 20h

Après le célèbre duo Marta et Léonus, voici "Le Yab incroyab" une nouveauté absolue. Le premier one man show de Léonus !
"Divorcé avec Marta pour une durée de 2 ans, mi raconte a zot en version Yab mon divorce avec des couillonnis made in Yab, en passant par Léonus alcoolique, dépité, énervé et bien sûr avec mon QI très élevé!"
Plus qu'un spectacle, c'est un show avec plein de surprises ...
A voir absolument !

* Samedi 6 octobre à 20h

En tournée dans toute l'île pour cette année 2018, c'est avec un nouveau spectacle intitulé "JOHNY COMME JAMAIS" et dans un autre style d'humour que Johny Guichard nous revient mais toujours avec la même énergie qu'on lui connaît. Des jeux de mots, des parodies de chansons, des blagues, il écrit et met en scène son parcours depuis le début de sa carrière à aujourd'hui avec des anecdotes croustillantes. Vous saurez tout sur sa vie d'artiste délirante et même plus si affinité. Johny Guichard fera également le tour des événements qui ont marqués l'actualité de ces dernières années avec une interview d'hommes politiques et de chanteurs de Maître Gims "sapé comme jamais", Johny a l'idée de non seulement faire plaisir à ses fans de toujours mais aussi de toucher la Nouvelle génération de public 974. Après quelques hésitations par rapport à sa longue et incroyable carrière, il nous confirme à travers ce nouveau spectacle qu'il ne compte pas s'arrêter maintenant et profite de cette opportunité pour fêter comme il se dois ses 25 ans de carrière avec son public.

Informations pratiques :

- Les billets seront mis en prévente dès le lundi 3 septembre. Pour toutes les informations sur le programme et la réservation de vos places renseignez vous au service culturel de la ville de Petite-Ile.

Des spectacles à ne manquer sous aucun prétexte et à inscrire dans vos agendas !
Leave a review about Le Fangou'rire 2018 :
Horrible

Bad

Average

Good

Excellent
There is no review about Le Fangou'rire 2018, be the first to leave one !