Les In Tras à Cilaos
Local event , Exhibition , Market at Cilaos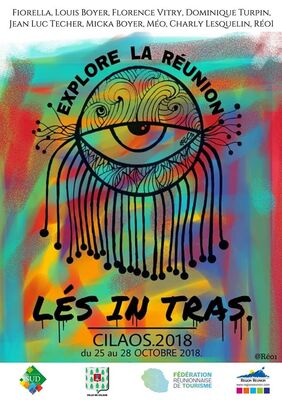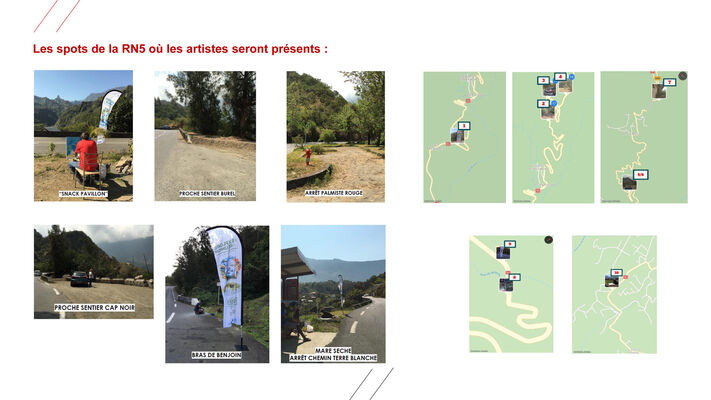 Une caravane d'artistes sillonnera la route de Cilaos (RN5) afin de s'inspirer des paysages spectaculaires.

Pendant 4 jours, le cirque accueillera 9 artistes locaux (peintres, sculpteurs et graffeurs) qui auront le plaisir d'exprimer leur art, d'échanger et de partager leur passion avec les visiteurs.

Les artistes sont : Charly Lesquelin, Louis Georget Boyer, Dominique Turpin, Florence Vitry, Réo 1, Jean Luc Techer, Méo, Mickaël BOYER, Fiorela

Le programme :

7 artistes seront sur la RN5 le jeudi 25 octobre (10h30-17h) et le vendredi 26 octobre, de 9h à 17h environ.

Lieux où vous pourrez rencontrer les artistes : Snack Pavillon, Parking proche sentier Burel, Arrêt palmiste Rouge, Parking proche sentier Cap Noir, Bras de Benjoin, Mare Sèche arrêt Terre Blanche.

A noter que 2 sculpteurs seront à des emplacements fixes, à savoir :

- Micka Boyer au site n°4 - Proche sentier Cap Noir
- Dominique Turpin au site n°6 - Arrêt de Bus Palmiste rouge

Deux graffeurs Méo et Réo seront positionnés au centre ville de Cilaos du jeudi au dimanche :

- Réo : Thermes de Cilaos.
- Méo : Dans la rue Mac Auliffe

Deux points forts du programme :

- Samedi 27/10 après-midi, sur le parking de l'office de Tourisme de Cilaos : un chapiteau sera mis en place pour accueillir un espace d'expositions et de rencontres entre public et artistes
- Dimanche 28/10 au matin, sur la place du marché forain : un espace d'expression artistique, d'expositions et de rencontres.
Schedules

From

October 25, 2018

until

October 28, 2018
Leave a review about Les In Tras À Cilaos :
Horrible

Bad

Average

Good

Excellent
There is no review about Les In Tras À Cilaos, be the first to leave one !