PARURES
Exhibition at Saint-Leu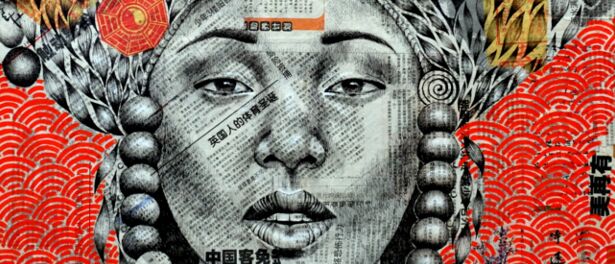 Les parures souvent foisonnantes symbolisent la richesse culturelle, artistique des peuples qui les ont élaborées. Pour suggérer cette richesse il fallait une technique très mixte : acrylique, stylo, collages de papiers, incrustation de pièces de métal, ajouts de pièces de tissus, de rubans...

La richesse des détails invite au graphisme que j'explore souvent au stylo. Graphisme qui me permet de me libérer du sujet pour inventer, créér. Le voyage géograhique au départ d'un tableau laisse alors place à l'incursion imaginaire.

Les parures sont ambivalentes, elles camouflent en même temps qu'elles révèlent. Elles sont à la fois un marqueur fort d'identité et une tendance universelle, puisqu'on les retrouve sur tous les continents. Elles peuvent ainsi évoquer les problématiques d'aujourd'hui liées à l'autre, à l'ailleurs. Pour cette raison j'aime à les métisser, sur de grands formats pour avoir l'espace de travailler la richesse graphique qu'elles nous offrent."
Leave a review about Parures :
Horrible

Bad

Average

Good

Excellent
There is no review about Parures, be the first to leave one !