Portré Tabisman
Exhibition at Saint-Leu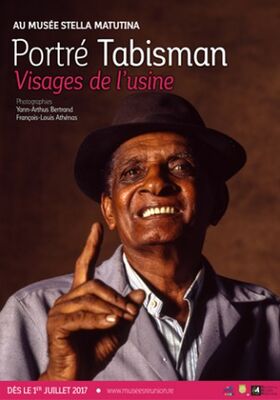 "Stella Matutina", "l'étoile du matin", est l'un des derniers exemples de cette époque où la majorité des usines sucrières de La Réunion a été sacrifiée dans une logique de concentration industrielle. C'est également la fin d'un système économique et social, connu sous le nom de "Kour Tabisman", qui organisait et contrôlait autant le travail que la vie des familles, l'avenir des enfants et la vie sociale du quartier.

A travers les témoignages des anciens travailleurs, c'est cette histoire qui est racontée aux nouvelles générations.
C'est leur vie de labeur, souvent de souffrance et d'exploitation.
Un regard de l'intérieur dont ne rendent que peu compte les ouvrages d'histoire ou d'économie, regard parfois en décalage avec la réalité, mais regard de ceux qui ont fait le quotidien du domaine.

Fierté de ceux qui faisaient tourner l'usine ! Se photographiant pour certains entourés de leur famille, ces hommes et ces femmes ont connu ces machines gigantesques, ont accompli toutes les tâches et faisaient corps avec leur métier.

Deux grands artistes de la photographie, Yann Arthus-Bertrand et François-Louis Athénas, ont mis leur talent au service de la mémoire de ces personnes.

Près de 120 portraits exposent la dernière génération des ouvriers de Stella Matutina, soit la fin des années 30 pour les plus anciens jusqu'à la fermeture de l'usine en 1978. Ils ont ainsi été réalisés dans les années 1990 à 2006, lors des campagnes de recueil de témoignages du musée.

Aujourd'hui le musée Stella Matutina rend hommage en exposant les portraits de ceux et celles qui ont oeuvré dans cette "Kour tabisman", une empreinte indélébile de ces "Visages de l'usine".
9 €

6 €

2 €

School children / Students

2 €
Leave a review about Portré Tabisman :
Horrible

Bad

Average

Good

Excellent
There is no review about Portré Tabisman, be the first to leave one !