Soirée astronomie
Workshop , Lecture , For children at Le Tampon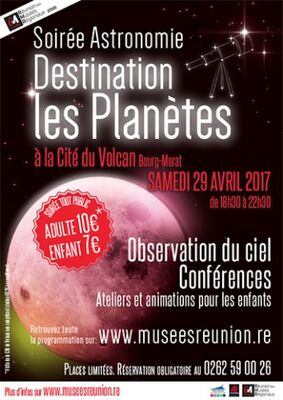 Prochaine soirée à la Cité du Volcan le samedi 29 avril 2017 de 18h30 à 22h30.

Le cinéma 4D est ouvert pendant la soirée (supplément de 2€/personne).

Attention : le nombre de places est limité. Réservation obligatoire et télépaiement sécurisé.

Programme de la soirée :

- Observation du ciel avec les animateurs de l'ARECA (Association Réunionnaise d'Etude du Ciel Austral) à l'aide de télescopes et de jumelles : Lune, Jupiter, Saturne, constellations, nébuleuses ...

- Si le ciel est "propre" ce soir-là, possibilité de voir quelques objets du ciel profond de l'hémisphère sud : Oméga du Centaure, Croix du Sud, Boîte à bijoux, Eta carenne, Grand nuage de magélan, la Tarentule...

- Les étoiles les plus brillantes : Antares, Spica, Alpha de la croix du sud (double), Arcturus, Sirius ...

- Ateliers et animations pour les enfants

- Conférence à 21h : "100 ans d'histoire(s) du rayonnement cosmique. Explosions célestes, vestiges de supernova, et autres !", animée par Matthieu RENAUD, astrophysicien et chercheur CNRS au Laboratoire Univers et Particules de Montpellier.

- Un point snack est également prévu...
Leave a review about Soirée Astronomie :
Horrible

Bad

Average

Good

Excellent
There is no review about Soirée Astronomie, be the first to leave one !