Soirée World : BONGEZIWE MABANDLA + LO GRIYO
Concert at Saint-Pierre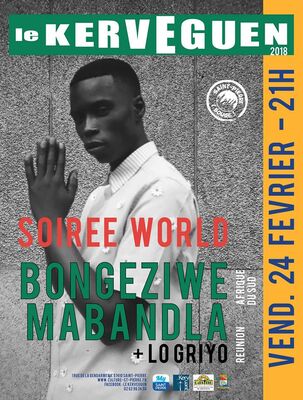 Né en 1985 à Tsolo et originaire du Transkei en Afrique du Sud, Bongeziwe Mabandla se passionne très tôt pour la musique et les arts. A 17 ans, il commence à apprendre la guitare puis suit une formation à la Lady Grey Arts Academy et étudie le théâtre à l'école de cinéma de Johannesburg.
Mais c'est la musique qui devient son domaine de prédiction. En 2012, quand Bongeziwe Mabandla fait surface avec son premier album "Umlilo" il est salué comme le nouveau visage de l'Afro- Folk. L'album gagne deux nominations aux "South African Music Awards", pour le meilleur nouvel album et le meilleur album africain.

Bongeziwe Mabandla est l'étoile montante grâce à une musique et des textes profondément originaux et sincères.

En 2017, les auteurs-compositeurs-interprètes les plus doués d'Afrique (Baaba Maal, Ismaël Lô par exemple) travaillent sur son deuxième album "Mangaliso" qui signifie "merveille" ou "miracle".
Depuis sa sortie en mai, "Magaliso" a été reconnu comme d'un des albums les plus intéressants sorti en Afrique en 2017. C'est un album de classe mondiale qui confirme que Bongeziwe Mabandla fait partie des artistes les plus talentueux en Afrique. Son premier single, "Ndokulandela" est une chanson hypnotique qui met en valeur sa voix méditative mais puissante. Son styler musical s'est dessiné avec le temps comme une fusion entre la musique traditionnelle xhosa et des musiques contemporaines comme le hip-hop, la soul ou le dub.

LO GRIYO

Lo Griyo sous les cordes de la Kora de Sami Pageaux-Waro, musicien connu non seulement de par sa filiation, il est le fils du chanteur Danyèl Waro, mais aussi pour son grand talent. Très vite, il fait couple avec Luc Joly dont le son du saxophone égaye bien des formations de jazz. Puis le duo devient trio en intégrant Brice Nauroy qui travaille le son. Ce trio multi-instrumentiste propose un mélange subtil de maloya, de jazz, de musiques traditionnelles teintées d'électro.

Lors du festival Sakifo 2007, le groupe remporte la première édition du prix Alain Peters qui récompense une valeur sûre ou un espoir de la musique de l'océan Indien.

En 2009, le groupe sort son premier album Yé Mama qui est sélectionné pour les "Découvertes du Printemps de Bourges".

En 2013, sort le deuxième album Mogador. Lo Griyo est régulièrement invité pour des collaborateurs internationales et signe des projets avec les musiciens marocains Medhi Nassouli, Khalid El Berkaoui et Boussine Foulane avec lesquels il part en tournée au Maroc.

Fin 2016, le trio devient quatuor avec l'invitation à la batterie de Cyril Faivre. Ce poste stratégique libère le leader et aère la formation, l'oblige à repenser l'espace et la relation inter musiciens mais aussi et surtout, annonce une approche du public plus fluide et mieux pensée. Une rechercher est aussi menée pour trouver un écrin visuel à cette musique de transe qui s'inspire aussi des servis kabaré originels et des rituels des chamanes. Une transe qui vous fera voyager bien au-delà du Kerveguen.
Leave a review about Soirée World : Bongeziwe Mabandla + Lo Griyo :
Horrible

Bad

Average

Good

Excellent
There is no review about Soirée World : Bongeziwe Mabandla + Lo Griyo, be the first to leave one !