Tomographie de la Fournaise
Lecture at Le Tampon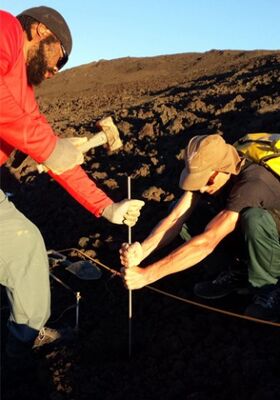 Conférences et projection en avant-première du film consacré à la mission de Tomographie au Piton de la Fournaise qui s'est déroulé du 2 au 22 mai 2017.

Aline Peltier, directrice de l'Observatoire Volcanique du Piton de la Fournaise, porteur du projet SlideVOLC au Piton de la Fournaise, financement de l'Agence Nationale de Recherche, et Anthony Finizola, maître de conférence LGSR, Université de La Réunion, présenteront une conférence sur le thème des déstabilisations des flancs des îles volcaniques.

Ils exposeront par ailleurs les premiers résultats obtenus sur le terrain en imagerie profonde et autres méthodes associées. Andrea Di Muro, chercheur à l'Observatoire Volcanologique du Piton de la Fournaise présentera également ses travaux en lien avec ce projet.

A noter :
Une discussion interactive avec le public et les membres du Team de Tomographie présents ce samedi 24 juin sera proposée pour répondre à toutes vos questions sur cette mission hors norme qui a permis de déployer des kilomètres de câbles à travers le volcan et de séjourner pour près de 20 personnes, en plein Parc National.
Leave a review about Tomographie De La Fournaise :
Horrible

Bad

Average

Good

Excellent
There is no review about Tomographie De La Fournaise, be the first to leave one !