Troisièmes entretiens du patrimoine de l'océan Indien
Lecture at Saint-Denis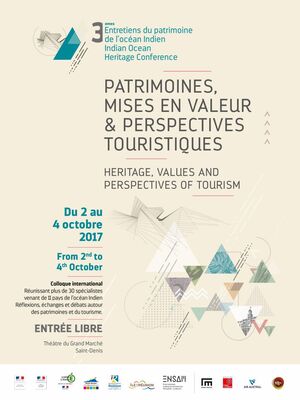 Ouverts au public, les EPOI traitent du patrimoine comme moteur de croissance économique et touristique et rassemblent des participants venus de onze pays.

En 2011, les premiers EPOI étaient consacrés à la ville patrimoniale, héritage des différentes civilisations à l'origine de la diversité culturelle des villes et des territoires de la zone océan Indien. En 2014, la deuxième édition posait la question du jardin et du paysage dans les sociétés indiano-océaniques.

Cette année, les troisièmes EPOI s'articuleront autour de la thématique "Patrimoine, mises en valeur et perspectives touristiques". Ces Entretiens entendent mettre l'accent sur les patrimoines en tant que moteur du développement économique et touristique.

Ils ont pour ambition de développer une réflexion et une coopération autour de l'océan Indien et du patrimoine commun qu'il représente pour tous les pays de cette zone géographique. Cette démarche associe une approche scientifique à celle de différents acteurs de la société civile avec la volonté de développer une intelligence collective autour du patrimoine, matériel comme immatériel.

Comme pour les précédents, ces troisièmes EPOI vont réunir des professionnels de la question, des universitaires, des chercheurs, des conservateurs, des architectes, des urbanistes et des décideurs autour de débats orientés sur trois thèmes :

- Diversité et logique d'attractivité des patrimoines de l'océan Indien
- Stratégies de valorisation entre conservation, développement et gouvernance
- Les patrimoines de l'océan Indien, une destination à part entière

Onze pays seront représentés : Afrique du Sud, Comores, Inde, Kenya, Madagascar, Maurice, Danemark, Seychelles, Australie, Mozambique, France (métropolitaine et Réunion). Les troisièmes entretiens du patrimoine de l'océan Indien se dérouleront au Théâtre du Grand Marché et sont ouverts au public.

Les EPOI sont organisés par l'Etat (Préfecture de La Réunion et Direction des Affaires Culturelles - océan Indien), l'Ecole d'architecture de La Réunion, l'antenne de l'Ecole Nationale Supérieure d'Architecture de Montpellier (ENSAM), en partenariat avec le conseil régional et le conseil départemental de La Réunion, le rectorat de l'académie de La Réunion et Ile de La Réunion (IRT).
Leave a review about Troisièmes Entretiens Du Patrimoine De L'océan Indien :
Horrible

Bad

Average

Good

Excellent
There is no review about Troisièmes Entretiens Du Patrimoine De L'océan Indien, be the first to leave one !