A caffeine fuelled getway
Tour and tasting
Land of mist

Local stories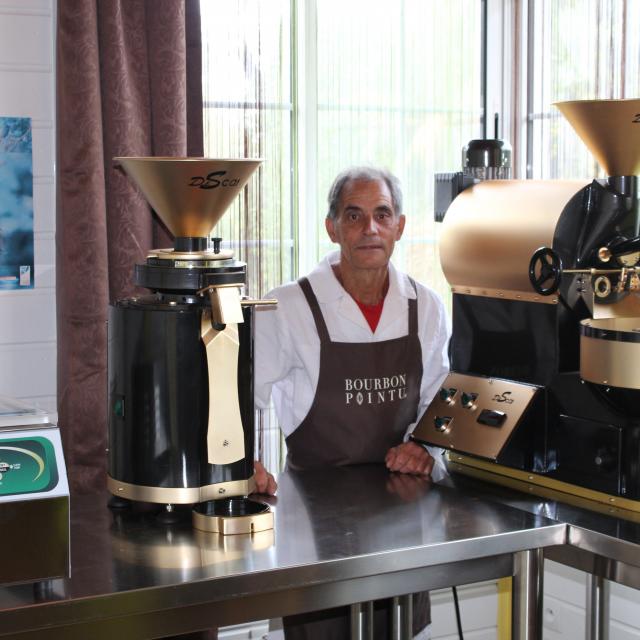 Meet Marie-Claude et Jacques
One island, one history, men, exceptional coffee
Reunion Island is
The senses and something different
Your favourite place
Roche Plate in Rivière des Remparts
Your favourite dish
Pigs' feet in Bourbon pointu
Bourbon Pointu, an exceptional coffee
In Grand-Coude I tasted one of the best coffees in the world: Bourbon pointu! Rescued from oblivion about fifteen years ago, it is now grown by Reunion enthusiasts.
In the list of top quality Reunion products there is one that you absolutely must taste when you stay on the island: Bourbon pointu coffee, also known as Laurina. We discovered it in Grand-Coude, a village at altitude in the highlands of Saint-Joseph, where a couple of passionate producers have opened a small museum: La Maison du Laurina.
Jacques and Marie-Claude tell us the unusual story of this plant, an Arabica coffee which mutated naturally in the island's soil, where it was discovered in the 18th century. Bourbon pointu enjoyed its moment of glory before falling into oblivion, as the island abandoned coffee farming in favour of sugar cane.
Red cherries
Fifteen years ago, it was replanted, after some specimens were found in gardens and scientifically selected. Jacques and Marie-Claude are some of the pioneers in this renaissance. They come with us into their coffee plantation where we discover the famous Bourbon pointu, a shrub in the shape of a Christmas tree cut to chest height to make it easier to harvest the fruit, which are called "cherries".
The couple harvests them when they are really red, before removing the pulp and drying the beans in the sun. Maison du Laurina uses artisan production methods and Jacques controls the the product throughout the process even doing the roasting himself.
The Japanese can't get enough of it
It's time for the long-awaited moment of tasting, with Jacques and Marie-Claude, who are so endearing and very attentive to their visitors. The Bourbon pointu is surprising at first because it's so light: it contains very little caffeine. And then because of the delicate flavours which delight our taste buds. Now we understand why it has been rated as one of the best coffees in the world at international competitions!
Jacques has no problem selling his coffee on the island, in France and elsewhere. The Japanese, who encouraged the relaunch of Laurina on Reunion Island, can't get enough of it to satisfy connoisseurs, ready to pay a small fortune for one cup. Marie-Claude pours us some more: there's real treasure to be found in the coffee plantations in the Highlands of Reunion Island !