A day out at the Domaine de Beaubassin
Exploring the Creole culture
Intensely Authentic

The north coast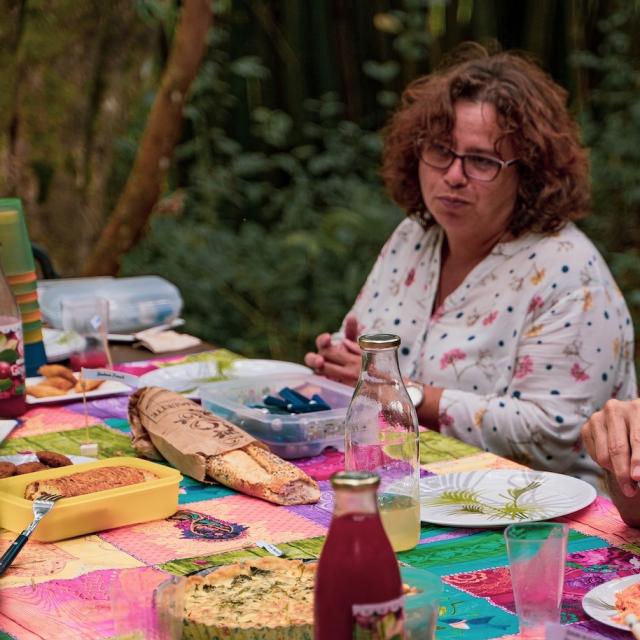 Meet Sophie
And discover different facets of Reunion's heritage for a day.
Reunion Island is
An incredible diversity of peoples, landscapes and activities.
Your perfect day
A day in the forest with friends and family.
Your passion
Games! Board games, role-playing games, card games…
Your favourite artist
Jean-Jacques Goldmann, to stick to a classic.
I set off for a day out in the hills above Saint Denis on Reunion Island, keen to explore the Creole culture in the company of Monique, owner of the beautiful Domaine de Beaubassin.
From visiting a traditional Creole house to my first lesson in Péi crafts, not forgetting to sample a few Reunion Island specialities picnic-style, this day looks set to ooze with authenticity made for sharing!
Visit of a traditional Creole house with a French-style garden
It all starts under the verandah of this massive dwelling in the Saint-Denis uplands. This is the home of Monique and her family, in the Domaine de Beaubassin. The lovely traditional Creole house looks awesome with its two towers. Sophie, a guide from Saint-François, begins with a quick briefing in Reunion-style architecture, using words such as fascia, verandah and "boucan".
Next, Monique takes over to plunge us straight into her family history as she tells the story behind this iconic dwelling in the north of Reunion Island. As we walk from room to room, from the hall to the dining room, all sorts of ancient objects and photographs recount the past of this house dating back to the 1860s. Everyone in our small group is captivated, and the tour of the French-style garden is every bit as magical. At this time of year, the fountain is encircled by the famous Bourbon roses in full bloom, and the air is filled with the heady fragrance of camellia.
Behind the house, the uplands of Reunion Island unfurl across 3 hectares of beautiful forest. Right here in this little haven, to which Monique has added tables, chairs, a water supply and brazier, is where we stop to share our Creole-style picnic.
An exploration of Creole culture, seated at a table in the forest-covered uplands of Reunion Island.
The table laid by Sophie already displays a few Creole delights waiting to be sampled. Which is good news, because we've worked up an appetite! A delicious lemonade and a few samosas get the conversation going. We talk about Reunion Island and the domain itself, naturally, but also our favourite spots and personal must-dos on the ultimate island. Sophie serves us "brèdes" tart and savoury cakes full of péi flavour… followed by a dessert of fresh pineapple and Monique's own homemade cakes.   Some of us then go for a nice little walk to digest our meal and discover, with the help of our guide, some of the plant species growing in the forest. The others opt for a comforting coffee around the brazier lit by Monique.
Introduction to Péi crafts
After this shared culinary experience, Rachad joins us under the immense eucalyptus trees in the forest behind the Domaine de Beaubassin. All smiles and wearing hats made from the leaves of a coconut palm, we continue our discovery of the Creole culture with a hands-on lesson in the essential Péi craft of "coconut weaving"*. I stand there speechless at the speed with which his fingers deftly manipulate the palm leaves. Watching him work, it looks so deceptively simple! It takes us a few minutes to get the hang of it.
With patience and a little teasing, Rachad shares with us his expertise and offers a few tips as we attempt to weave the coconut leaves. Slowly but surely, a basket emerges. As the sun begins to disappear behind the enormous trees, our workshop comes to a close. At the end of the day, we say goodbye to Rachad, Sophie and Monique, and leave carrying our baskets, minds enlightened by the Creole culture.
*Different workshops according to date (coconut weaving, making mobiles from plant materials, etc.) Contact Sophie for further details: Rund um Reunion  : +262 (0)6 92 64 35 49