Cari and canyon in Cilaos
Bras Rouge waterfall and typical meal
Intensely Adventurous

The cirques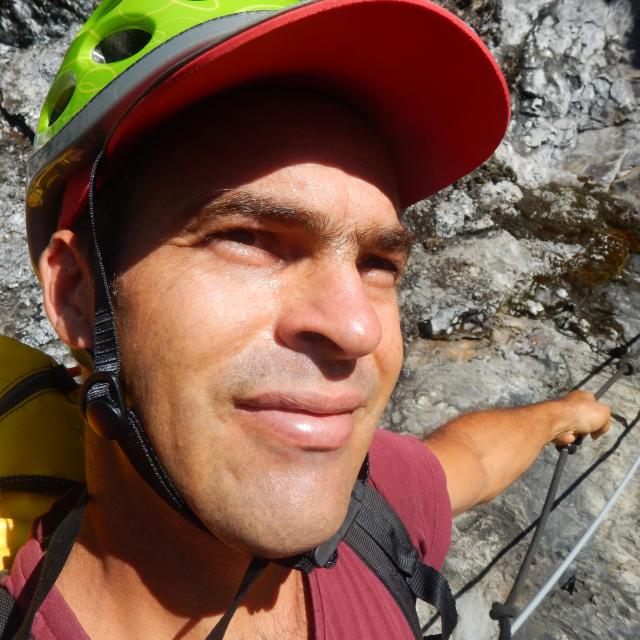 Meet Luciano
An unforgettable day between friendliness and intense moments .
Your perfect day
Those that come after working days, with the family.
Your favourite artist
Sega, Maloya and Patrick Manoro
Cilaos, Canyoning… and Cari !
With a coffee in his hand and a big smile Luciano waits for us in the square in the village of Cilaos, in front of the Town Hall. It's 7am in the morning and we are in the heart of the eponymous cirque, one of the jewels of Reunion Island. It's a beautiful day and we can clearly see the immense ramparts which surround us. Today, we are setting off on an unusual activity, a mixture of exercise…and comfort!
A native of the cirque, Luciano is completely at home here. Everyone knows him and we manage to find him easily among the small groups who are also preparing to set off on their activities in the cirque. In high spirits and radiating enthusiasm, he quickly explains to us the schedule for the day: "cari-canyoning" in the Bras Rouge river, the aquatic gem of Cilaos which takes its source directly at the foot of Piton des Neiges 2,500m above sea level. After the activity, a surprise awaits us …
Before starting the challenging climb to the starting point for the activity, Luciano takes time to explain to us how to use the equipment: harnesses, ropes, carabiners… Apparently the activity includes some impressive abseiling and this hands-on training is essential. We soon find our feet and a great atmosphere settles on the group. The day promises to be exhilarating!
After a half-hour walk to the starting point through the luxuriant countryside, while enjoying magnificent views of Cilaos, the activity begins. And we're off, for nearly 3 hours of fun in the sky and the water: natural water slides, jumps, zip wires in the water, white water swimming… It's a veritable feast, there's something for everyone! Throughout the course we are surrounded by towering cliffs coloured by oxide deposits which give the rock its red tinge. Bras Rouge (or Red Arm) definitely lives up to its name! An impressive abseil several dozen metres long comes next: we all encourage each other, Luciano puts us all at ease. He has his camera with him, so we're bound to leave with some beautiful souvenirs.
As he himself says: "After all the exercise, time for comfort". After all that activity, we 're worn out (that's a bit of an understatement!) and Luciano invites us to a place that only he knows about: his home. It's a magical place. Between two Creole houses with authentic lambrequins, in a lush green setting with a beautiful view of the cirque, we all share an expertly prepared Creole lunch. Fresh fruit juice, sausage rougail, grains, rice and dessert. The afternoon stretches ahead of us and we don't want to leave this place, we don't want this break away from it all to come to an end. Sharing this delicious food is a great opportunity to relive the thrills we enjoyed in the morning, and also to discover the many secrets of the Cirque of Cilaos thanks to Luciano.
We leave, with our heads buzzing and our stomachs full, with this unique impression of having experienced an unforgettable day, made new friends and shared intense thrills. Thank you Luciano!