Heli‑hiking in Mafate
See Mafate differently
Intensely Adventurous

The cirques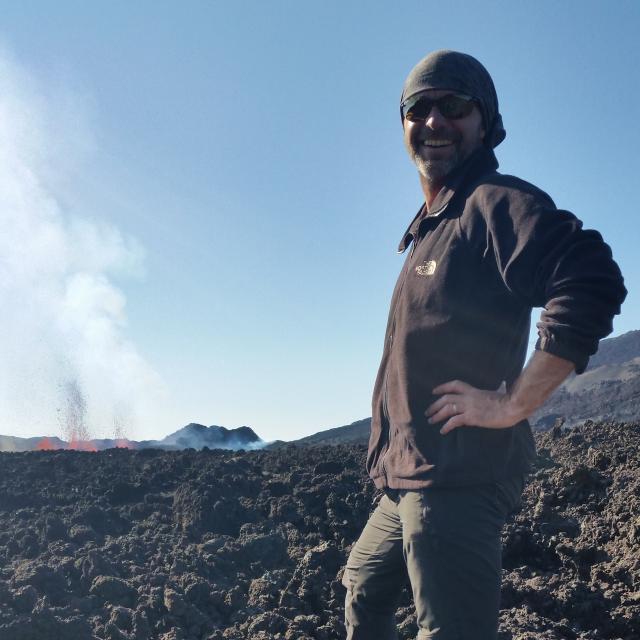 Meet Ludo
An unusual day. A true "Mafate" experience !
Reunion Island is
A magical playground for outdoor sports
Your perfect day
Probably setting off early in the morning and going for a run in the cirque of Mafate
You won't believe your eyes!
Now you can combine hiking with a helicopter flight on Reunion Island, on a tour to explore Mafate. With the added bonus of a tasty Creole lunch in a lodge in the cirque!
The 4×4 jolts along the track following the bank of La Rivière des Galets, between two high ramparts. We delve deeper into Mafate, the most isolated cirque on Reunion Island and only accessible on foot or by air. Indeed, our vehicle soon stops at the end of the track, in Deux-Bras. To continue, we have to walk.
Antoine, our guide, shows us the route. First we continue to walk in the gorge of La Rivière des Galets, as far as the Bras d'Oussy pool where hikers like to take a dip. Then the path will get a bit steeper, to reach our walk's destination: the hamlet of Cayenne.
Mountainous chaos
The landscape becomes more and more spectacular as we head into Mafate with its mountainous chaos. The imposing silhouettes of Piton Cabris and then Piton des Calumets rear up before us. One last final climb and we complete our hike after two full hours of walking.
The owners are waiting for us in their lodge with its multicoloured metal roof, in the heart of a beautiful flower filled hamlet. Delicious smells fill the air, it's nearly lunchtime. A succulent chicken cari cooked on a wood fire rewards our efforts, along with some banana cake. The couple also offer accommodation in tents, but we have chosen a different option: to return via the coast by air!
An island within an island
Our helicopter approaches and soon lands on the small heliport of Cayenne. We get on board. Take-off and we feel the first exciting sensations! Discovering Mafate on foot is a never-ending delight, but only with the helicopter flight can you really take in this island within an island, the depth of the gorges, the isolation of hamlets posed on the few plateaus, that the pilot shows us as we pass over.
Our helicopter seems tiny in the middle of these tropical mountains. We gain altitude, it's time to cross the summit of the ramparts and get back to the coast, after a detour above the bay of Saint Paul. You really should treat yourself to this stunning trip, which combines the thrills of a half-day walking tour with a dizzying flight!