Horseback riding and Creole lunch
Horseback ride to the Plaine des Palmistes and typical lunch
Intensely Biodiverse

The East Coast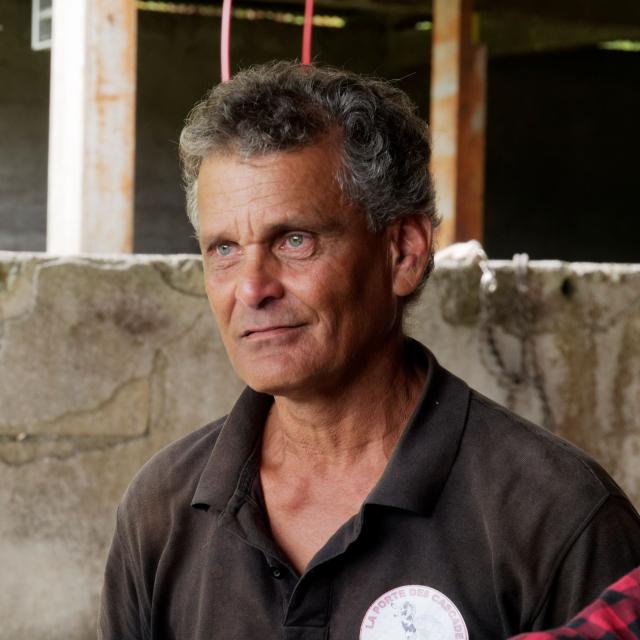 Meet François
He will accompany you on horseback, to explore an exceptional and rather unknown natural area.
Your perfect day
I would start by taking care of my animals in the morning, then welcome the visitors for the day, chat and laugh with them, and finally, see them leave with a smile.
Your favourite place
The secret places I discover by accident when I'm out exploring. But shhhhh, they're a secret!
Your favourite dish
I have a sweet tooth! A delicious sweet potato cake or péi fruit salad, with a drop of Marie Brizard liqueur.
Your favourite artist
I like Ti Fok and Alain Peters… and the Rolling Stones!
Once upon a time in the east
François welcomes us to his equestrian farm, at the foot of the waterfalls of La Plaine des Palmistes, for a 100% nature day. 
It's a sunny morning and François welcomes us with a big smile: "it's going to be a great day", he says. With his cowboy hat firmly positioned on his head, he harnesses the horses up and we get to know Luna, Lady D, Surprise and Julie. "They are Irish Cobs, says François. These horses are well-known for being strong, yet gentle. That's why they are perfect for rides, even for beginner riders". It's time to mount the magnificent Luna, with her tobiano coat and long hair, typical of this breed. I feel confident, sitting comfortably on the saddle, ready to set off on my adventure.
Our ride begins alongs some small footpaths around La Porte des Cascades, then we cross a field, and our surroundings are suddenly transformed. We're now in the midst of nature. The ground is getting wetter and the vegetation is more and more dense. The horses navigate a path through the branches and leaves, giving us the impression that we are exploring this place for the very first time.
We stop for regular breaks so that the horses can eat and drink, and François uses this time to share his knowledge of the island with us. "We are at the foot of Morne de Saint-François, and it's here that you can see the remnants of the Alizés Volcano. Scientists believe that, along with the Piton des Neiges, this volcano was behind the origins of Reunion Island", he tells us. We carry on riding through some dense vegetation, dotted with orchids, until we arrive at a superb viewpoint.
Panoramic view across the Pandanaie and the east coast
The famous "Pandanaie" stretches out before us. It's a sort of swamp, the only one of its kind in the world, covering almost 400 hectares. "The name of this place comes from the word 'Pandanus', the scientific term for the 'pimpin' and screwpine, found on the island. The special thing about this area is that you can find the 'Pimpin des Hauts', also known as the Pandanus Montanus", details François. With its wavy leaves, the Pandanus Montanus can be distinguished from the other screwpine variations we find on lower ground, that are used for weaving. This area is also home to many different kinds of plants, birds, insects or lizards, all native to the island and protected.
"A former mayor wanted to clear this whole area for farming purposes, but it's so difficult to access that nobody was interested. Luckily! Because here is where you can find almost 60% of the island's orchids, including some extremely rare species. We are trying to ensure that this area remains protected", says François. The area, not including the national park, has been covered by a prefectural decree for biotope protection since January 2011. 
All these new discoveries have made us hungry. Back at the farm, Sylvie was waiting for us for lunch. The farmer had prepared her speciality: chicken curry with guava tree wine. This little red fruit is also served for dessert, in the form of jelly, paste and jam. It was delicious! François and Sylvie then tell us lots of stories about their lives as farmers. This typical meal, enjoyed on the farm, is the perfect way to end this great day in the highlands.