1er festival de l'alimentation du jeune enfant
Workshop , Fair or trade show , Open days , For children at Saint-Denis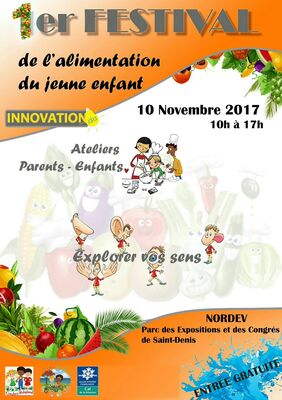 Ils pourront ainsi partager un moment convivial en famille, tout en bénéficiant de conseils et d'informations sur les notions de base de l'alimentation et de l'équilibre alimentaire auprès de professionnels et de la Petite Enfance et de la santé, une situation préoccupante à La Réunion au regard des habitudes alimentaires, du taux élevé de diabète et du nombre d'enfants en surpoids.

Des ateliers permettront également aux familles de s'éveiller au plaisir du "bien manger" ou encore de partager leur savoir-faire.

Ces ateliers seront animés par :

- Des chefs cuisiniers et pâtissiers : Benoit VANTAUX / restaurant l'Atelier de Ben ; Frédéric DELSART / pâtisserie Le Lys Sucré ; Marie-France GRAIN GALET / chef à domicile ; Esther LOBERT / La Vie en Santé.
- 450 professionnels de la Petite Enfance, de la santé et de l'alimentation.

L'objectif général de cette opération s'inscrit dans le cadre du soutien à la parentalité, la promotion du bien-être des enfants, des parents ainsi que la relation parent-enfant avec ici l'utilisation de l'atelier cuisine comme outil pédagogique.
Leave a review about 1Er Festival De L'alimentation Du Jeune Enfant :
Horrible

Bad

Average

Good

Excellent
There is no review about 1Er Festival De L'alimentation Du Jeune Enfant, be the first to leave one !