22ème édition du Camélias Raid
Sporting event at Saint-Denis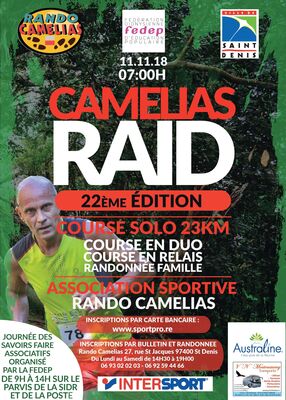 Le programme :

* Course individuelle / duo / relais :
Course de montagne de 23 km avec un dénivelé cumulé positif de plus de 900 m, empruntant le GR R2.

Itinéraire :

Départ : Allée des Cocotiers à 7h

2. Boulevard Monseigneur Mondon
3. Boulevard de Notre Dame de la Trinité
4. Route de Montgaillard
5. Rue de l'Oasis
6. Avenue des Camélias
7. Allée des cocotiers
8. Avenue Jean Albany
9. Rue Jules Verne
10. Allée de la Foret

Partie Montagne

11. Sentier ONF, direction village du Brulé
12. Village du Brulé, (Relais place de l'Église)
13. Sentier vers Camp Mamode
14. Aire de jeux
15. Parcours de santé Camp Mamode
16. Route Forestière vers le village du brulé
17. Place de l'Église (Retour vers Saint Denis)

Arrivée : Allée Cocotiers Camélias

- Rando famille :
Course de 6,5 km

Départ : Allée des Cocotiers à 7h05

2. Allée de la forêt
3. Allée de la pépinière
4. Allée Avé maria-boulevard de la providence
5. Lavoir de la source (Ravitaillement)
6. Passage au dessus de la tranchet couverte
7. Quartier ruisseau-rue Léon Dierx
8. Rue bois de nèfles
9. rue Jacob
10. rue général Rolland
11. rue bouvet
12. passage derrière l'école de bouvet
13. rue Monthyon (ravitaillement à la boulangerie)
14. Avenue André Malraux
15. théâtre de champ fleuri
16. baobab château Morange
17. rue du château Morange
18. Rue des Camélias

Arrivée : Allée des Cocotiers devant la poste.

La remise des dossards se fera le vendredi 9 novembre 2018 à la Mairie Annexe de Montgaillard à Saint Denis de 13h00 à 19h00.
Leave a review about 22Ème Édition Du Camélias Raid :
Horrible

Bad

Average

Good

Excellent
There is no review about 22Ème Édition Du Camélias Raid, be the first to leave one !