27ème édition Raid des Sables
Sporting event at L' Étang-Salé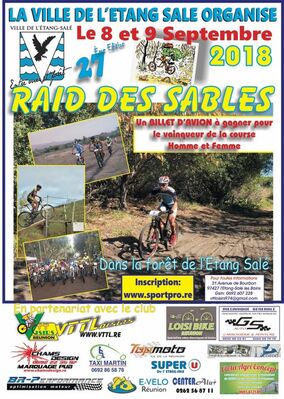 Un rendez-vous incontournable du VTT à La Réunion qui reste une fête pour un maximum de participants et passionnés du VTT qu'importe leurs niveaux et leurs styles de pratique.

Les épreuves :

* Samedi 8 septembre 2018 - les épreuves Marmailles + prologue individuel :
- 12h30/13h30 : Accueil des participants et émargements
- 13h15 : Reconnaissance du parcours "Marmailles"
- 13h30 : Départ de l'épreuve "Marmailles" (circuit spécifique)
- 15h00 : 1er départ du prologue individuel puis toutes les minutes

Etape 1 du combiné du Raid des Sables - prologue individuel :

Épreuve ouverte aux filles et garçons de 17 ans et plus ainsi que les VTTAE.

Parcours de 8km500 environ à réaliser le plus rapidement possibles. Le départ de chaque participant sera décalé d'une minute.

* Dimanche 9 septembre 2018 - les 4 Raid des Sables :
- 6h45 : Accueil des participants et émargements
- 8h : Départ des 13 ans et plus - 2005 et moins
- 08h05 : Départ des VTTAE

Les épreuves du dimanche :

Cette année, 4 épreuves seront proposées :
- Le RAID "Jeunes" (15kms) : garçons de 13 à 14 ans et filles de 13 à 16 ans
- Le RAID DES SABLES (30kms) : garçons de 15 à 16 ans et filles de 17 à 18 ans
- Le SUPER-RAID DES SABLES (45kms) : garçons de 17 à 18 ans - dames plus de 19 ans et VTTAE et hommes de plus de 50 ans
- La MEGA-RAID DES SABLES (60kms) : hommes de plus de 19 ans

Le départ sera donnée tous ensemble en "mass start" à l'exception des VTTAE qui partiront avec un décalage de 5 minutes.

Les concurrents partiront pour un ou plusieurs tours en fonction de leurs catégories d'âges comme stipulé ci-dessus.

Pour être classé sur le combiné du RAID DES SABLES il faut avoir terminé le prologue individuel du samedi et l'épreuve du dimanche.

Informations pratiques :

- Le circuit des 15kms présente quelques difficultés techniques. Il est de la responsabilité de chacun de s'engager ou non dans ces passages en fonction de son bagage technique.
- Il est recommandé de faire une reconnaissance de ces passages avant le départ de l'épreuve.
- Les inscriptions se font impérativement, pour des raisons de gestion et d'organisation, avant le mercredi 5 septembre 2018 à 18h00 sur le site de sport pro.
- Tous les participants non licenciés devront fournir un certificat médical de moins de 6 mois et pour les mineurs une autorisation parentale sera OBLIGATOIRE, ou une licence fédérale reconnue par les instances françaises en cours de validité.
- Aucun participant ne pourra prétendre prendre le départ sans y être inscrit.

Plus de précisions sur les épreuves (récompenses et classements, balisage, respect de l'organisation et de l'environnement, ravitaillement, réparation-aide technique et droit à l'image) sur le site de Sport Pro.
Leave a review about 27Ème Édition Raid Des Sables :
Horrible

Bad

Average

Good

Excellent
There is no review about 27Ème Édition Raid Des Sables, be the first to leave one !