3ème édition : LOFAKA Festival
Workshop , Concert , Exhibition , Festival at Saint-Benoît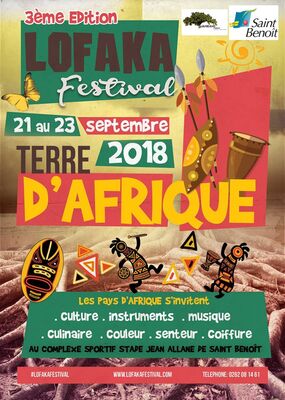 Cette manifestation regroupe sur trois scènes musicales des artistes locaux (maloya, séga, dancehall, rap, DJ) et des invités de l'océan Indien. Le festival fait également appel à la participation des habitants des quartiers de Saint-Benoît.

En effet, à chaque édition, les organisateurs mettent en place des ateliers, en amont de l'événement, afin de fabriquer les décors du festival.
Dix "arbres à palabres" de 2,50 mètres doivent notamment être réalisés, avec des matériaux libres (tissus, bois, etc) .

L'Arbre à Palabres, généralement le baobab, est un arbre majestueux réputé en Afrique pour apporter ombre et fraîcheur dans les villages lors de rassemblements. On y écoute les histoires, entame des discussions, fait des réunions de famille, etc ...
C'est une pratique ancestrale du continent africain. Les ateliers de fabrication des arbres ont lieu les lundis, mercredis, vendredis de 8h à 12h, dans les locaux de Lavarang culturel. Ils sont ouverts à tous et gratuits.

Enfin, pour l'atelier "Kozman fey tol", les organisateurs invitent les participants à exprimer leur créativité "Nou done azot lokazion esprim zot kréativité dan fey tôle pou espozé dan Lakafa Festival 2018". Pour vos réalisation, vous pouvez utiliser des feuilles de tôle ou bouts de tôle. Les formes et les dimensions sont libres. Les ateliers ont lieu les mardis et jeudis de 13h à 17h.

Ceux qui souhaitent organiser des ateliers au sein de leur propre association, à Saint-Benoît ou ailleurs, peuvent également le faire.
Leave a review about 3Ème Édition : Lofaka Festival :
Horrible

Bad

Average

Good

Excellent
There is no review about 3Ème Édition : Lofaka Festival, be the first to leave one !