Carte Blanche à Marie Hangard
Exhibition at Saint-Leu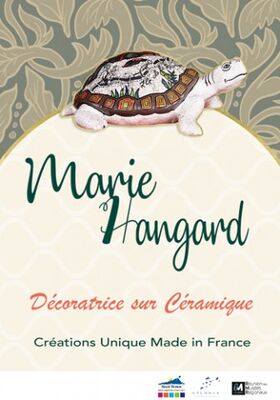 Décoratrice sur céramique, Marie HANGARD est sélectionnée pour le Prix Jeunes Talents 2018 au Carrousel du Louvre.

Elle a travaillé sur une période de 5 ans dans un atelier de faïence où elle réalisait des pièces en émaux.

Son expérience professionnelle lui a permis de développer ses capacités en :

- créativité
- reproduction et respect des différents styles et techniques
- recherche chromatique
- maîtrise de l'harmonie et de l'espace

Depuis Mars 2017, Marie HANGARD a créé son entreprise. Aujourd'hui elle vous dévoile sa propre collection ...

Cette technique délicate consiste à cerner les gouttes d'un émail par des fins traits noirs afin de produire un relief saisissant la lumière et faisant ressortir les couleurs.

La pose du tracé noir a un double rôle, il bloque la couleur à un endroit précis. Les couleurs sont toutes cernées d'un trait noir qui les isole et leurs empêche d'interférer, comme pour le vitrail. Ensuite l'émail est déposé et travaillé goutte à goutte au pinceau.

La cuisson permet à l'émail et aux couleurs de fusionner et de rendre le brillant et l'éclat des couleurs. Deux cuissons sont nécessaires si on veut aussi poser de l'or ou de l'argent.

La cuisson a bien évolué depuis l'utilisation des gaz perdus des hauts fourneaux vers 1847. Les progrès techniques successifs ont amené le gaz, le bois, l'électricité.

Actuellement, la cuisson se fait électriquement ou au gaz.
Leave a review about Carte Blanche À Marie Hangard :
Horrible

Bad

Average

Good

Excellent
There is no review about Carte Blanche À Marie Hangard, be the first to leave one !