Concert Natiembé & Mounawar : "PIGMENT" / TAPKAL
Concert at Le Port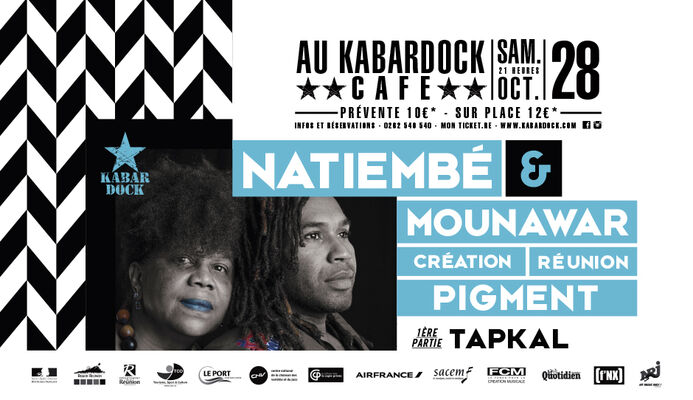 Nathalie Natimbé et Mounawar ont tous les deux des univers à part, faisant fil des étiquettes et des genres dans lesquels leurs titres sont classés en magasin ou dans les discothèques en ligne. Ils mêlent sans crainte instruments traditionnels, rythmiques punk ou rock, ajoutant à l'occasion un soupçon d'électro ici et là. Ils ne s'interdisent rien et s'ouvrent à tout. Ce qui compte, c'est l'énergie.

Humeurs et états d'âme

Pour "Pigment", cette création faisant l'objet d'une résidence d'une semaine au Kabardock, Nathalie Natiembé et Mounawar ont pour fil conducteur les humeurs, les états d'âme. "Les émotions sont universelles", expliquent-ils.
Ensemble, les amis et artistes s'attachent à transmettre cela à travers textes et musiques.

Une plume soignée

L'écriture est un exercice important pour Nathalie Natiembé et Mounawar. Tous deux usent d'une poésie particulière explorant l'invisible. A travers elle, les tabous disparaissent au profit de métaphores, de mélanges, de torsions, d'invention de mots et de langages. Les paroles sont savamment orchestrées afin de créer un tout plein d'harmonie et de couleurs, à l'image de la rencontre entre les deux artistes.

Des musiciens impliqués

Pour mettre la poésie en musique, il faut des musiciens qui y soient sensibles. Des musiciens connaissant l'univers de Nathalie Natiembé et Mounawar qui sont en mesure d'y apporter leur savoir-faire. "Pigment" réunit donc une équipe composée de musiciens soigneusement choisis : Cyril Faivre (guitariste), Daniel Riesser (batteur), Jean-Philippe Georgopoulos (bassiste) et Arnaud Le Gall (ingénieur son et lumière).
Plus qu'une simple création, "Pigment" représente l'union de deux mondes, de deux artistes et de leurs musiciens embarquant pour une nouvelle aventure. A découvrir pour la toute première fois au Kabardock le samedi 28 novembre à 21h.

Première partie :

Tapkal est une forêt mystique que l'on dit située à Cilaos. Vos hôtes pour ce voyage singulier : Ananda Devi et sa takamba (luth africian), Julien Grégoire et sa flûte traversière, Gilles Lauret avec son ukulélé basse et son merlin (petite guitare canadienne) ainsi que Sami Pageaux Waro à la batterie.
Laissez vous emporter par les sonorités traditionnelles et les bases rythmiques rock émanant des instruments ! Vous découvrirez en avant-première les mystères de la forêt de Tapkal ...
Tapkal fait partie du dispositif Békali.
Leave a review about Concert Natiembé & Mounawar : "pigment" / Tapkal :
Horrible

Bad

Average

Good

Excellent
There is no review about Concert Natiembé & Mounawar : "pigment" / Tapkal, be the first to leave one !