Culture Créole
Exhibition at Le Tampon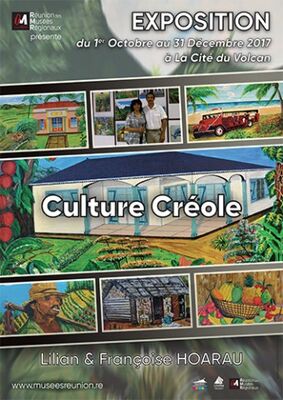 Françoise et Lilian Hoarau sont deux artistes réunionnais autodidactes. Passionnés d'arts culturels et des patrimoines d'époque de La Réunion, ils peignent des paysages de rêve comme nos fameuses forêts primaires ainsi que des cases créoles qui semblent avoir traversé le temps. On peut très souvent apercevoir ces bâtisses au milieu de végétations indigènes ou exotiques, dans de jolies propriétés privées ou dans de simples cours abandonnées.

Son petit appareil photo toujours à porter de main, Françoise capture tout ce qu'elle voit autour d'elle, puis essaie de les reproduire, tout en y apportant une touche personnelle et imaginaire.

En général, nos deux artistes travaillent individuellement. Cependant, ils peuvent aussi se compléter sur une même toile, en unissant deux styles différents qui leur sont propres. Françoise adore l'architecture créole et elle le montre bien à travers ses toiles.

Lilian quant à lui, aime peindre la nature même s'il a une préférence pour la sculpture sur bois. En redonnant un coup de pinceau à ces vieilles bâtisses, ils leur donnent une nouvelles vie, qui, l'on espère,se feront encore remarquées pendant de très longues années.

Précisons tout de même que nos deux artistes ne peignent pas seulement que des créoles et des paysages, mais aussi des animaux des Mascareignes, ou endémiques de l'île tels que : l'Oiseau Vert, le Merle, le Tec-Tec, le Papangue, et bien d'autres encore.

Enfin, il faut savoir que le couple a aussi une grande passion pour l'art et la culture japonaise.
Leave a review about Culture Créole :
Horrible

Bad

Average

Good

Excellent
There is no review about Culture Créole, be the first to leave one !