Journée des tortues marines
Local event , Workshop , Lecture , Exhibition , For children , Show at Saint-Leu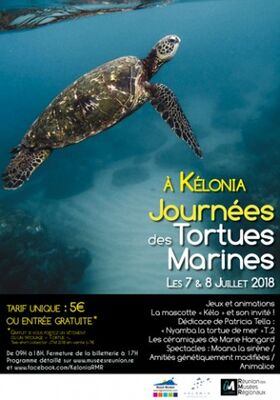 L'occasion pour les visiteurs d'être sensibilisés à la protection des tortues marines et de leurs habitats.

Cette 20ème édition est placée sous le signe du plan de restauration des plages de ponte de tortues marines, mené conjointement par Kélonia et le Centre d'études et de découvertes des tortues marines (CEDTM).

Le temps d'un week-end venez (re)découvrir l'observatoire des tortues marines et profiter de nombreuses animations pour les petits et les grands !

Au programme :

* Pendant tout le week-end :
- Jeux et animations
- Notre mascotte "Kélo" la tortue aura un invité surprise !
- Dédicace de Patricia Tella pour le Tome de 2 de "Nyamba la tortue de mer"
- Présentation des céramiques de Marie Hangard

* Spectacles :
- Moana la sirène vous donne rendez-vous samedi et dimanche

- Samedi 7 juillet : AGM (Amitiés génétiquement modifiées)
Une fable chorégraphique-écologique, jeune public à partir de 4 ans
Par la Cie Danses en l'R d'Eric Languet. Imaginez qu'une frite industrielle rencontre une tortue marine mutante. Les deux sont en train d'étouffer, l'une dans son arrogance, l'autre dans un sachet plastique qui flottait à la surface de l'océan. Elles vont chacune devoir se débarrasser de leurs accoutrements superflus pour pouvoir vivre cette amitié naissante et danser librement.

- Dimanche 8 juillet : Animalice
Spectacle musical jeune public de la Cie les Kléaçons
Après un atterrissage rocambolesque sur l'île, Pascal Batros, fervent défenseur du vivre ensemble et de l'environnement, assisté d'Indiana Conda l'aventurier hyper-trop sensible chantent et racontent les animaux rencontrés aux 4 coins de la planète.
Schedules

From

July 7, 2018

until

July 8, 2018
Leave a review about Journée Des Tortues Marines :
Horrible

Bad

Average

Good

Excellent
There is no review about Journée Des Tortues Marines, be the first to leave one !