Journées européennes du patrimoine 2018 : La Cité du Volcan
Exhibition , Show , Visit , Guided tour at Le Tampon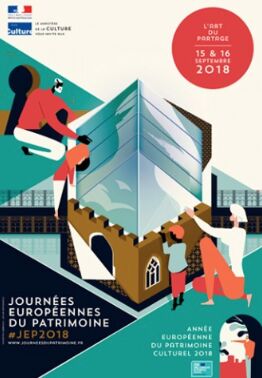 A cette occasion, l'entrée et les animations sont gratuites dans 4 de nos établissements : à la Cité du Volcan, au Musée Stella Matutina, au Musée des Arts Décoratifs et du Design et au Kélonia (visites guidées).

Ces Journées Européennes du Patrimoine 2018 sont placées cette année sous le signe de l'art du partage, qui résonne particulièrement en cette année déclarée Année Européenne du Patrimoine Culturel.

Expositions, démonstration et ateliers tout public : fabrication de bijoux, découverte et initiation au tressage du vacoa et du choca, sensibilisation à la protection de l'environnement, peinture sur goni, découverte des roches ...

En partenariat avec : Ass. Randorun, l'AVE2M, l'Ass. Maquettes Passion Réunion, l'Ass Ti Kaz Bienvenue, l'Ass. des Petits Métiers de l'Entre-Deux, La Maison de la Tresse et du terroir de Saint-Philippe, l'Ass VACOAMANA, le collectif Alkemy, Corinne Tayllamin et Mr Rossolin.

Au programme :

* Samedi 15 septembre : Rencontres l'Homme et l'Environnement dans le cadre du Gondwana Tour 2018

- 10h à 12h30 et 13h à16h30 : Ateliers "Nature et Culture" : savoir-faire fibres et graines, créations bijoux et accessoires, initiation tressage, danses traditionnelles et maloya.

- 10h à 12h : "Kozman Domoun" : échanges projections et débats sur le thème de l'artisanat et des savoirs traditionnels de l'océan Indien.

* Dimanche 16 septembre : visites insolites du musée, par la Compagnie Karanbolaz

- 10h30 à 11h30 : Conférence "Retour sur les éruptions 2018 du Piton de la Fournaise"


- 15h30 : Spectacle humour : Les Komiks Associés

Information pratique :

- A la boutique pendant les 2 jours : animations autour des produits de bien-être, par Mr. ROSSOLIN.
- Chasse au trésor pour obtenir une remise de 20% sur tous les produits.
Schedules

From

September 15, 2018

until

September 16, 2018
Leave a review about Journées Européennes Du Patrimoine 2018 : La Cité Du Volcan :
Horrible

Bad

Average

Good

Excellent
There is no review about Journées Européennes Du Patrimoine 2018 : La Cité Du Volcan, be the first to leave one !