Journées européennes du patrimoine 2018 : Musée des Arts Décoratifs et du Design
Exhibition , Visit , Guided tour at Saint-Louis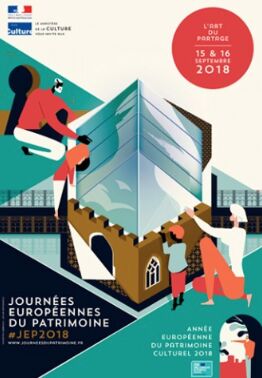 A cette occasion, l'entrée et les animations sont gratuites dans 4 de nos établissements : à la Cité du Volcan, au Musée Stella Matutina, au Musée des Arts Décoratifs et du Design et au Kélonia (visites guidées).

Ces Journées Européennes du Patrimoine 2018 sont placées cette année sous le signe de l'art du partage, qui résonne particulièrement en cette année déclarée Année Européenne du Patrimoine Culturel.

* A Maison Rouge (Saint-Louis)

EXPOSITION "BEAU COMME L'ANTIQUE, A LA CROISÉE DES MONDES : OCÉAN INDIEN - EXTRÊME ORIENT"

Cette exposition aborde les fondements de la civilisation matérielle du XIXème siècle à La Réunion où les références à l'antique sont à la fois multiples et diversifiées.

Elles se déclinent avec un vocabulaire particulier sur l'ensemble de la ceinture tropicale, et côtoient d'autres formes stylistiques issues de foyers artistiques non-européennes : Inde, Afrique du Sud, Chine ...

La chronologie retenue prend en compte les premières révolutions stylistiques du siècle des Lumières pour se terminer à la fin de l'Empire.

Information pratique :

- La visite sera libre et gratuite les samedi 15 et dimanche 16 septembre de 9h à 17h30.

VISITE GUIDÉE DU DOMAINE MAISON ROUGE

Au travers de cette visite guidée, vous découvrirez son histoire, son évolution, son centre économique, sa maison de maître et ses dépendances.

Informations pratiques :

- Visite guidée de 45 minutes
- Groupe limité à 25 personnes
- Réservation possible par téléphone et sur place le jour même, dans la limite des places disponibles

* A la Villa de la Région (Saint-Denis)

EXPOSITION : "RENCONTRER L'AUTRE ? XVIème - XVIIIème SIÈCLES"

A la fin du 15ème siècle, une grave crise de l'or en Europe pousse ses nations les plus entreprenantes à franchir les mers et à visiter les côtes d'Afrique pour éviter les puissances islamiques et accéder directement à l'or africain.

Très vite, ils découvriront sur place des ressources matérielles telles que les épices, les pierres précieuses, les plantes et substances à utilisation tinctoriales (teinte) et médicinales, les soieries et les cotonnades, les bois rares ...
Schedules

From

September 15, 2018

until

September 16, 2018
Leave a review about Journées Européennes Du Patrimoine 2018 : Musée Des Arts Décoratifs Et Du Design :
Horrible

Bad

Average

Good

Excellent
There is no review about Journées Européennes Du Patrimoine 2018 : Musée Des Arts Décoratifs Et Du Design, be the first to leave one !