La Fet Kaf à l'Entre-Deux
Local event , Concert , Exhibition , Market , For children , Show at Entre-Deux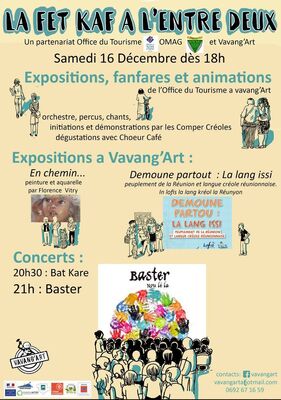 Une date à laquelle la fine équipe de Vavang'Art vous propose un nouvel an aux milles et une surprise, décalées à souhait, avec un buffet chic et buffet choc, à l'image du thème et des déguisements pour ceux qui le souhaitent !

Le réveillon sera à l'image de Vavang'Art : en toute simplicité, convivial et festif.

Vavang'Art reste ouvert pendant les fêtes avec une carte aux deux couleurs : la classique et la haute gamme, avec possibilité de bigarrer à sa sauce !

Quelques exemples de plats pour se mettre l'eau à la bouche :
- Une entrée fondante : un foie gras mi cuit maison, confiture de letchis et mangue rôtie
- Un plat aux saveurs croustillantes : filet de truite de Saint-Joseph snackés, chips et songe et timbale de légumes
- Un dessert fruité / fleuri : nage de mangue, glace à la rose et à l'ylang-ylang et espuma de champagne

Au programme de ce week-end bien rempli :

- Projection 621km non-stop, un défi que s'est lancé Pascal Blanc, faire le tour des Alpes à pieds, presque sans dormir, un exploit physique.
A 19h rendez-vous avec le super sportif.
- La Fêt Kaf, c'est samedi 16 décembre, à l'Entre-Deux, en partenariat avec l'Office de Tourisme et l'Omag.
De 18h à minuit venez profiter des animations, des déambulations, initiations .... Une exposition de Florence Vitry "En chemin" et une de lofis la lang créole sur le peuplement de La Réunion et la langue créole et surtout, surtout ... les concerts : Bat Karé en première partie et BASTER pour le final dès 21h
- Les rendez-vous jeux, le dimanche 17 décembre de 14h à 22h
- Les fauteuils de spectacle refont leur apparition pour une vente en chair et en os. L'occasion de se faire plaisir à des prix abordables !

A très vite pour partager ces moments délicieux !
Leave a review about La Fet Kaf À L'entre-Deux :
Horrible

Bad

Average

Good

Excellent
There is no review about La Fet Kaf À L'entre-Deux, be the first to leave one !