Marché de Nuit : L'Esprit des Jeux !
Local event , Workshop , Fair or trade show , Market , For children , Show at Saint-Denis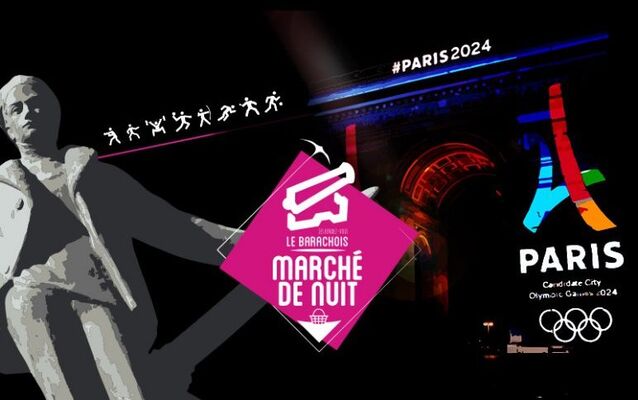 En plus des traditionnels stands d'exposition et de vente, venez vous promener sur le Barachois et goûter à l'esprit des Jeux.

Animations, démonstrations et ateliers sportifs permettront à chacun de s'impliquer dans l'organisation française de ce grand moment de l'olympisme.
Et à cette occasion, vous pourrez aller à la rencontre de champions réunionnais présents pour l'événement.

Rendez-vous à partir de 19h au Barachois !

Le programme :

Le Barachois deviendra un "chemin olympique" menant à Paris 2024, avec la mise en lumière de différentes disciplines sportives.

ESCRIME :
- 2 pistes d'escrime avec des démonstrations des trois armes (fleuret, épée, sabre)
- Atelier d'initiation pour les enfants
- Diffusion de films de combats sur écran

Les Réunionnais faisant partie du pôle France seront présents :
- Grégory Bon, partenaire d'entraînement de l'équipe de France
-Cédric Loiseau, Maître d'armes aux Etats-Unis accompagné de deux de ses élèves universitaires de Chicago
- El-Habib Abdou, champion de France cadet 2016
- Kelly Lusinier, sabreuse du Pôle France

ATHLÉTISME :
Démonstration et initiation des disciplines suivantes :
- Sauts de haies
- Sauts en hauteur
- Lancé de javelot
- Lancé de poids

BOXE :
- Démonstration et initiation de boxe anglaise
- Animation spéciale self défense pour les femmes

JUDO :
- Démonstration et initiation

KARATÉ :
- Démonstration et initiation sur les deux disciplines, soit le karaté combat et le karaté kata

HANDISPORT :
- Adaptation de différentes disciplines aux personnes autrement capables

TIR A L'ARC :
- Démonstration et initiation

Animations :
- "Mur à soutiens" sur lequel les Dionysiens viendront exprimer leur soutien à la candidature de Paris aux Jeux Olympiques
- Scène où des amateurs viendront chanter Paris - Groupe de danses tahitiennes (Récréa Run)
- La "Caravane Timoun" t'apprends à sauver des vies, animée par la Croix Rouge
- Le Bus santé

... et comme d'habitude, retrouvez 150 stands d'exposition / vente avec un marché du producteur, des produits péi, bio, des épices, des plantes médicinales, des produits artisanaux, de la mode et de la création, des produits de bien-être, des boissons fraîches et des stands de restauration.
Leave a review about Marché De Nuit : L'esprit Des Jeux ! :
Horrible

Bad

Average

Good

Excellent
There is no review about Marché De Nuit : L'esprit Des Jeux !, be the first to leave one !