Marché des lutins de Noël
Workshop , Exhibition , Market , For children at Petite-Île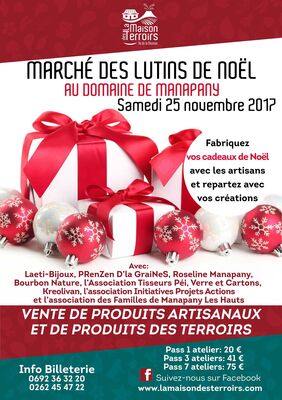 Devenez un gentil lutin de Noël et repartez avec vos créations.

Les artisans qui seront présents sont : Laeti-Bijoux, PRenZen D'la GraiNeS, Roseline Manapany, Bourbon Nature, l'Association Tisseurs Péï, Verre et Cartons, Kreolivan, l'Association Initiatives Projets Actions et l'Association des Familles de Manapany Les Hauts.

Ci-dessous le détail des ateliers :

- Laeti-Bijoux
Venez créer un bijou personnalisé avec Laeti-Bijoux ! Vous aurez le choix entre un bracelet, un collier, une paire de boucles d'oreilles, un marque-page ou un porte-clés. L'artisan mettra à disposition une dizaine de paniers contenant des pierres semi-précieuses, des pierres de lave mais aussi des perles en bois, en nacre, en verre et des breloques avec des centaines de motifs différents !

- L'Association Initiatives Projets Actions
L'atelier sera animée par Patricia ARNOUX qui est conseillère formatrice.
Un atelier de 45 minutes vous sera proposé pour apprendre à réaliser, au choix, sa crème visage ou sa bougie de massage accompagnée d'un savon romantique.

- Bourbon Nature
L'atelier de Bourbon Nature animée par Hélène vous fera découvrir des produits cosmétiques naturels de l'île de La Réunion. Vous pourrez créer une crème hydratante pour le visage à l'eau florale de géranium et huile de coco.
Avec Hugues, artisan créateur chez PRenZen D'la GraiNes, vous pourrez créer des bijoux à partir des graines de La Réunion

- Kreolivan
Avec Sylvie, créez des produits avec le vacoa

1) - Le rond de serviette argenté
Fabriquer 6 ronds de serviette en tressant à 4 avec des fleurs découpées en vacoa

2) - Décoration de table
Décorer la table avec des branches de palmistes et des fleurs découpées en vacoa

3) - Mobile
Tresser le vacoa en 4 et fabriquer des poissons ou des oiseaux

- Association des familles de Manapany Les Hauts
Fabriquer un cache pot en bambou avec les dames de Manapany les Hauts. Sur place il y aura des stands de vente de paniers en bambou

- Verre et Cartons
Venez fabriquer un objet en verre dans une cuisine "lontan" avec Pauline

- Association Tisseurs Péï
Réaliser des petits objets artisanaux en vacoa

Informations pratiques :

Tout le long de la journée il y aura des ventes de produits artisanaux et des produits du terroir dans la boutique et dans les jardins.

Réservez vos places avant le 25 novembre 2017 !
Leave a review about Marché Des Lutins De Noël :
Horrible

Bad

Average

Good

Excellent
There is no review about Marché Des Lutins De Noël, be the first to leave one !