Rendez-vous High-Tech à la Cité du Volcan
Workshop , For children at Le Tampon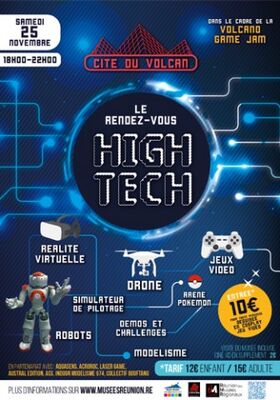 Cette manifestation est organisée en partenariat avec : Lasergame, Acroroc, Aquasens, Austral Edition, Association Indoor Modelisme 974 et le Collectif Bouftang.

Au programme de cette soirée :

- Interactivité : Atelier et démonstration du simulateur d'éruptions volcaniques, casque de réalité virtuelle (plongez au cœur d'une éruption + jeu Nolimite), atelier bac à sable interactif ...

- Jeux vidéo : Echanges avec le public sur le thème de la création des jeux vidéo, simulateur de pilotage, stand de jeux vidéo ...

- Robotique : Présentation du robot Nao, démonstration et initiation au pilotage de drones, battle robotique (sumo), expo/démo modélisme ...

- Pokémon : Tous au long de la soirée, le public pourra "PokéStoper" et s'affronter dans l'arène de la Cité du Volcan.

Et aussi : Atelier de fabrication de thaumatropes, présentation de l'ouvrage "152 randonnées" avec géolocalisation ...

- Challenges : Des challenges seront organisés sur les simulateurs de pilotage, les jeux vidéos et le pilotage de drones.

Informations pratiques :

A gagner : des entrées pour Aquasens, Acroroc et des parties à Lasergame !
Leave a review about Rendez-Vous High-Tech À La Cité Du Volcan :
Horrible

Bad

Average

Good

Excellent
There is no review about Rendez-Vous High-Tech À La Cité Du Volcan, be the first to leave one !