Ti Pièr ek lo lou
Lecture , For children at Saint-Leu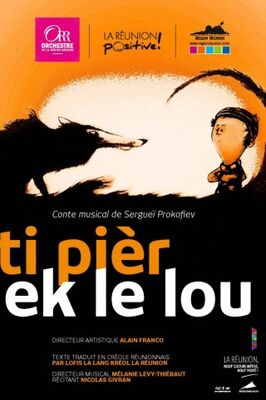 Cette version a été créée en 2009 sous la direction artistique d'Alain Franco, la direction musicale de Mélanie Lévy-Thiebaut avec la collaboration de Lofis La Lang Kréol (Axel et Robert Gauvin, Laurence Dalleau) pour la traduction des textes, récitant Nicolas Givran. L'enregistrement qui a été réalisé au Centre Gramoun Lélé à Saint-Benoît par M. Jean-Marc Laisné, n'avait pas été diffusé.

Et à l'occasion de l'anniversaire du Conservatoire, il a été rediffusé par le biais du Quintette des Mascareignes lors d'une série de concerts pour les écoles primaires de toute l'île sur l'année scolaire 2016-2017 et 2017-2018. Cette dimension pédagogique a d'ailleurs été approfondie avec la circonscription de St Louis puisque 2 écoles (Ecole Paul Salomon et Ecole Paul Hermann) ont plus particulièrement travaillé sur des supports visuels (vidéo animée et théâtre d'ombres) ayant pour objectif de donner une dimension "animée" à la version créole de l'oeuvre de Prokofiev.
Leave a review about Ti Pièr Ek Lo Lou :
Horrible

Bad

Average

Good

Excellent
There is no review about Ti Pièr Ek Lo Lou, be the first to leave one !