Tropikal Block Party // So Watts, Dj Endrixx, Dj Tricio
Concert at Saint-Denis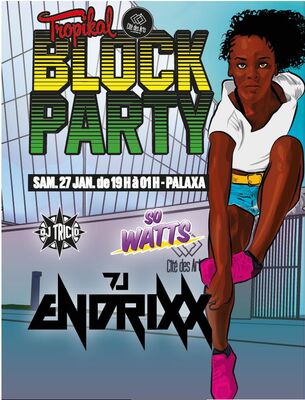 La SO WATTS prend d'assaut le Palaxa et en profite pour inviter un Guest de renom, cette année ce sera DJ ENDRIXX qui clôturera cette grande messe !

SO WATTS

So Watts est un collectif de DJs / Producers, originaire de La Réunion, qui réunit les influences musicales multiples. Cette équipe est à l'origine d'un rassemblement trimestriel qui désenclave l'île en jouant avec les codes de la musique électronique actuelle. La mixité culturelle réunionnaise demeure l'enjeu d'une génération ouverte d'esprit et qui recherche, à tout prix, à danser sur des rythmiques qui lui correspondent.
Le deejay set de So Watts répond à cette recherche d'ambiance "tropicale décalée" qui puise ses influences en Jamaïque, en Angola, en Afrique du Sud, au Mozambique, en Inde et en Amérique Latine. Les So Watts deejays jouent indifféremment en "back 2 black", qu'ils soient deux, trois ou cinq sur scène. L'interaction est inévitable, et la session se transforme bien souvent en battle, afin de faire monter le son et la surenchère est des plus osées. La complicité demeure au cœur du concept qu'elle soit entre deejays ou avec le public.
Trap, Moombathton, Ghetto House, Afro House, Kuduro, Zouk, Dancehall, Reggae, Reggaeton, Kwaïto, Bhangara, Uk Garage, Hip Hop, Future Bass, Jersey Club, Favella Funk et bien d'autres rythmiques qui sont destiné à un public ravi de danser et de passer un excellent moment.

DJ ENDRIXX

Endrixx, de son vrai nom Endric est un DJ français vivant en région Parisienne et originaire de Guadeloupe. A seulement 24 ans, le prodigue s'est fait remarquer grâce à son style, ses gimmicks et sa finesse, qui lui ont valu de performer aux côtés de grands noms de la scène internationale, en France ainsi qu'à l'étranger, tel que DJ Craze, Asap Rocky, Metro Boomin, Travis Scott, Young Thug, Rick Ross et bien d'autres encore. Ce jeune artiste français fait désormais partie des DJ's les plus bookés de la capitaine parisienne.
Leave a review about Tropikal Block Party // So Watts, Dj Endrixx, Dj Tricio :
Horrible

Bad

Average

Good

Excellent
There is no review about Tropikal Block Party // So Watts, Dj Endrixx, Dj Tricio, be the first to leave one !