Un volcan et des hommes
Exhibition at Le Tampon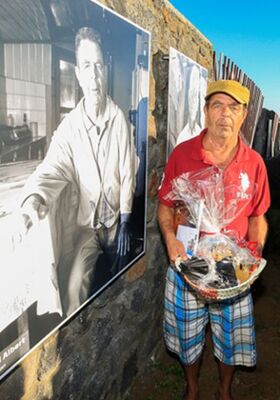 Guides et porteurs jusque dans les années 1970, spécialistes exclusifs du volcan, ils le connaissent pas à pas, pour l'avoir arpenté de jour et de nuit, par tous les temps. Chaussés de "souliers gonis", dont il fallait trois à quatre paires pour une ascension depuis Bourg-Murat, ils y ont tous eu autant de joie que de peur.

A chacun ses souvenirs, gagnés au fil des ascensions, du temps où la route du volcan n'existait pas encore. Du temps où l'émotion de la découverte de La Fournaise avait peut-être une autre saveur...

La veille du départ d'un groupe pour La Fournaise, l'Auberge du Volcan contactait un guide, qui recrutait les porteurs (un par visiteur). Le ravitaillement était chez Allicon, "boutique chinois" du bourg, sans oublier le pétrole, le rhum et les fameux "gonis" servant de souliers, sacs à dos, imperméables et couvertures. S'il fallait des chevaux, on contactait Vallon Hoarau et Marcellin Payet.

Le départ se faisait de l'Auberge, au petit matin, après le "café coulé" de Mme Burel, patronne des lieux. Chevaux ou pas, les porteurs allaient à pied, leur goni souvent chargé de plus de 30kg. Arrivés au gîte, ils préparaient le camp : feu de bois, repas frugal (souvent un "rougail morue"), couches en bat-flancs sur la paille et les gonis. Les touristes, eux, avaient droit au gîte et à leurs victuailles. Près du feu, les histoires allaient bon train. A l'aube du lendemain, c'était la montée au sommet, plus que jamais encadrée par le guide. Les porteurs restaient au gîte et préparaient la deuxième soirée.

Le troisième jour était consacré au retour à Bourg-Murat.

Josémont Lauret (mort sur le volcan en 1887), puis Jasmin (année 1930) et surtout Alfred Picard (années 1950 / 1960), sont les noms toujours cités des guides qui ont marqué leur temps. Ils ont forgé l'esprit des derniers anciens guides et porteurs comme le furent, entre autres, Marc Picard, Antonin Payet, puis Rochard Lebihan, Georget Fontaine, les frères Lépinay, Guy et Jacques Picard (années 1960 / 1970).

Tous connaissaient le volcan "comme leur poche". Avec eux, initiés à la géologie par les érudits qu'étaient Mr Ducrot et Mr Jean, pas un seul visiteur ne s'y est perdu, quelle que soit la météo. C'est encore grâce à eux qu'à l'époque, la Gendarmerie retrouvait les imprudents, égarés pour avoir tenté seuls l'excursion, dont l'itinéraire n'était alors pas fléché.

C'est en 1959 que titre et statut de guide et porteur sont officialisés par les Eaux et Forêts. Dans les années 60, le guide était payé 600 francs CFA (300 francs CFA = 6 francs) par jour et 500 par nuit (500 et 400 francs pour les porteurs). Ce revenu étant trop irrégulier, ils étaient éleveurs, cultivateurs, maçons, bûcherons ou pâtres, pour ceux qui ne travaillaient pas aux Eaux et Forêts.

La route du volcan, qui atteignît le Pas de Bellecombe en 1967-68, sonna alors rapidement le glas de la profession de guides et porteurs. A leur manière, eux aussi s'inscrivent dans le grand livre de la découverte et de la conquête du volcan.
Leave a review about Un Volcan Et Des Hommes :
Horrible

Bad

Average

Good

Excellent
There is no review about Un Volcan Et Des Hommes, be the first to leave one !