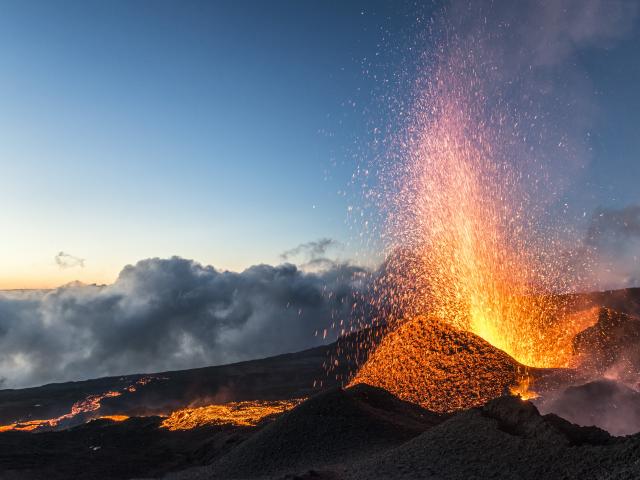 Piton de la Fournaise, one of the most active volcanos in the world, erupted for the first time this year on Friday 9th April 2021 at 7pm (local time). 
That day, the Piton de la Fournaise Volcano Observatory (OVPF) had recorded new seismic activity from 3pm (local time). According to OVPF recordings, the source of this tremor was located on the south side of the volcano, inside the enclosure. The eruption could be seen from the Piton de Bert.
On that day, Friday 9th April 2021, the Prefect decided to trigger alert phase 2-2 of the special Orsec volcano plan: eruption in progress inside the enclosure. Public access to Enclos Fouqué from the Pas de Bellecombe-Jacob and all other footpaths, were forbidden until further notice, as were all aircraft landings in the area around the volcano.
Organise your next trip to Reunion Island. In the comfort of your sofa, browse through the new tourism magazine from the Reunion Island Tourist Board: Reunion, the ultimate island.


Reunion Islands, intensely volcanic
Piton de la Fournaise, a Hawaiian-type volcano, rises to a height of 2.632 metres and has its own natural enclosure. It presents no danger for the population or for visitors who want to admire this unique pyrotechnic show in the Indian Ocean.
Reunion Islands is intensely volcanic! With four spectacular eruptions in 2018, Piton de la Fournaise recorded five eruptions for the year 2019 and three for the year 2020.
Located in the south east of the island, piton de la Fournaise is one of the most active volcanoes in the world. He has woken up more than twenty times over the past ten years. This mythical volcano is one of Reunion's major tourist attractions.
To live new experiences, discover:
As part of the island's UNESCO World Heritage site, Piton de la Fournaise forms part of Reunion Island's volcanic mountain range along with its older sibling, piton des Neiges. To reach this effusive volcano, you have to cross the remarkable red-tinged landscapes of Plaine des Sables, which look remarkably like those on Mars.
Journey to the centre of the Earth
Do you fancy taking things further? Pay Piton de la Fournaise a visit at the Cité du Volcan, located in Plaine des Cafres. Through an innovative and interactive museum experience that's both fun and educational, you'll discover Reunion Island's geological history.
For an all-round experience in the bowels of Piton de la Fournaise, there's nothing like the lava tubes! There are some fifty underground passages around Saint-Philippe and Sainte-Rose, which lead to the old lava flows dating from 2004 and 2007. Authorised guides supervise this extraordinary activity so that both young and old can enjoy the best possible experience. With a helmet and headlamp, you can experience a fun natural science lesson with family or friends through impressive galleries that can reach more than a kilometre in length.
You'll find full HD videos of Piton de La Fournaise updated every half-hour (day and night), on reunion.fr: ICI