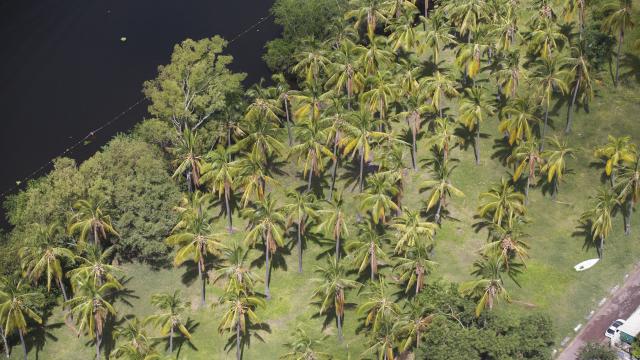 Protecting, preserving and breathing life into the Saint Paul's Pond nature reserve
Listed as a National Nature Reserve since 2008, Saint Paul's Pond joined the list of wetlands of international importance protected by the Ramsar Convention, on 1st August 2019.
Saint Paul's Pond is home to some unique fauna and flora. It is forbidden to disturb the animals or gather plants. Rules and regulations apply to the natural and cultural heritage of the nature reserve.
The nature reserve's cultural sites: Tour des Roches (road), Pont des Anglais (bridge), Chemin des Anglais (path), Moulin à Eau (watermill), Bassin Vital (pond), the old town of Saint Paul, Grande Maison de Savanna (mansion), Pont CFR (railway bridge), Bernica ravine and the surrounding area.
Kayaking on Saint Paul's Pond!
Discovery activities for all to enjoy
Saint Paul's Pond is teeming with natural riches.
Throughout the year, the RNNESP (nature reserve management) organises guided tours on foot, by kayak or by bike in the company of an eco-ranger to discover the fauna, flora, landscapes and key attractions of Saint Paul's Pond National Nature Reserve.
Share a moment of togetherness with friends or family in the heart of nature. Dedicated picnic areas can be found within the protected zone or just outside the nature reserve. For the benefit and comfort of all, please take your litter away with you. These sites are starting points for a multitude of walks and hiking trails, both within and around the reserve.
The RNNESP and its partners participate in major events aiming to protect and raise awareness about heritage features. These include World Wetlands Day, World Water Day, European Heritage Days, the nature festival and nature weekends, and the "Zarlor" discovery walks with the West tourist office.
Click HERE to see the RNNESP events calendar for the coming month.