Sunset in transparent kayak
At the lagoon's pace
Intensely Biodiverse

The west coast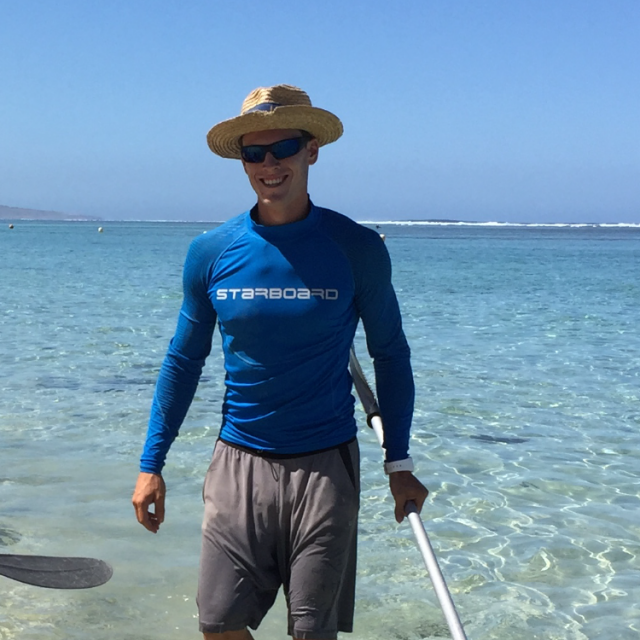 Meet Seb
Enjoy a private tour of the lagoon and its coral reefs full of tropical fish.
Reunion Island is
The ultimate experience !
Paddling together as a couple
We admired the most romantic sunsets, on the West coast, after an unforgettable experience exploring the lagoon in a transparent kayak.
If you find yourself near Trou d'Eau, in front of the lagoon on the West coast, do not miss this unique experience: a trip in a transparent kayak. It was Sébastien's great idea to introduce this activity to Reunion Island, this fun and educational way to explore the coral reefs that is so original and easy!
Made entirely from plexiglas, his boats are the perfect way to view the underwater landscape and abundant aquatic life just under the surface. Before getting on board though Sébastien tells us what precautions to take to avoid any risk of damaging the corals and to comply with the regulations which ensure that this fragile natural environment is protected.
Natural aquarium
We make sure we put on plenty of sunscreen before getting into the kayaks, which are particularly simple to manoeuvre on a calm stretch of water like this. Our guide comes with us, standing on his paddle-board.
Under our transparent kayak the life in the lagoon is revealed to us. Sébastien knows every coral head in the Trou d'Eau lagoon and tells us all about the particular ecosystem that exists in a coral reef. The lagoon is home to many inhabitants. After more than an hour and a half of this guided kayak tour, we know all about triggerfish, moray eels and hermit crabs!
Tropical sunset
Sébastien chose to invite us on this original exploration of the Reunion lagoon in the late afternoon, a particularly pleasant time on the West coast. We get back to the beach just as the setting sun paints the natural landscape with a warm, shifting light. Two comfortable sunbeds await us so we don't miss a minute of the show.
With a refreshing fruit juice and a plate of samosas to hand, we savour these delicious moments when the sky is on fire, before the sun make its daily plunge into the Indian Ocean, behind the white outline of the barrier reef.
Finally, it takes its leave with one last green ray, on the edge of the horizon, to round off this romantic moment in the most beautiful way.