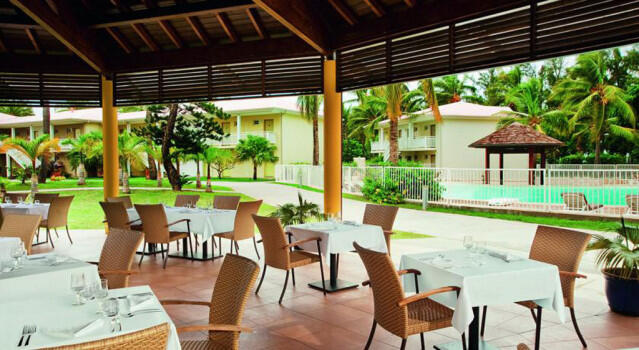 Maloya (Le)
Hotel-restaurant,

European cuisine
in Saint-gilles-les-bains, Saint-Paul
Le Maloya, main restaurant of Le Récif hotel, in Saint-Gilles les Bains, offers to discover the culinary traditions of the Indian Ocean, from the Maldives to Madagascar.

The restaurant offers a full menu, from large salads with fresh grilled meat through local fish and lobster or also tropical fruits. At the dust, festive themed buffets is a new opportunity to taste new flavors coming from distant horizons. Musical evening shows are organised with local artists.
Open from 6.30 a.m. to 10 a.m., 12 noon to 2 p.m. and 7:30 p.m. to 9:30 p.m.
Environment

Spoken languages
Accessibility

Equipment

Amenities

Activities

Beach
Horse-riding
Tennis

Fishing
Shopping centre
Public car park
Monday

12:00 PM - 2:00 PM

12:00 PM - 2:00 PM

7:30 PM - 9:30 PM

7:30 PM - 9:30 PM

Tuesday

12:00 PM - 2:00 PM

12:00 PM - 2:00 PM

7:30 PM - 9:30 PM

7:30 PM - 9:30 PM

Wednesday

12:00 PM - 2:00 PM

12:00 PM - 2:00 PM

7:30 PM - 9:30 PM

7:30 PM - 9:30 PM

Thursday

12:00 PM - 2:00 PM

12:00 PM - 2:00 PM

7:30 PM - 9:30 PM

7:30 PM - 9:30 PM

Friday

12:00 PM - 2:00 PM

12:00 PM - 2:00 PM

7:30 PM - 9:30 PM

7:30 PM - 9:30 PM

Saturday

12:00 PM - 2:00 PM

12:00 PM - 2:00 PM

7:30 PM - 9:30 PM

7:30 PM - 9:30 PM

Sunday

12:00 PM - 2:00 PM

12:00 PM - 2:00 PM

7:30 PM - 9:30 PM

7:30 PM - 9:30 PM