Massage on the lagoon
Relaxation and wellness
Intensely Revitalising

The west coast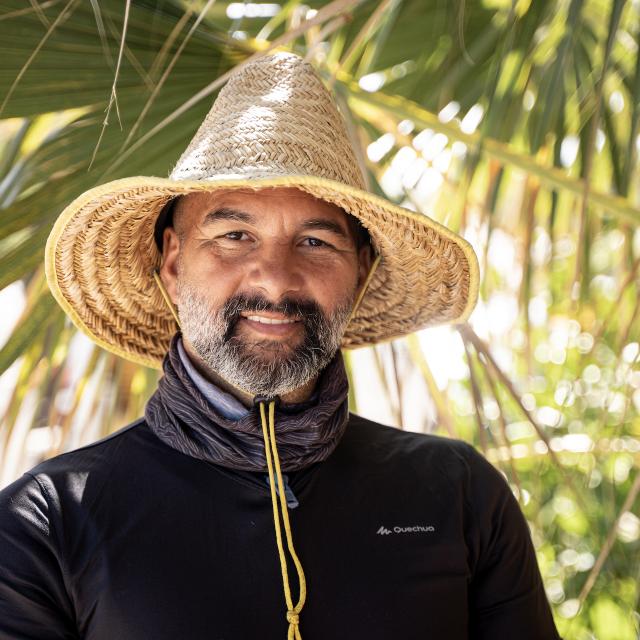 Meet Didier
Enjoy a couples massage on the waters of the lagoon and a relaxation session by the sea
Your perfect day
In the forest, at Belouve for example, in silence
A Floating Massage
This morning, we opted to truly unwind and relax. At Planch'Alizée beach restaurant, Didier, our masseur, booked us in for a magical moment of relaxation.
After a bit of pure bliss overlooking the lagoon of La Saline, we tried out the acupressure massage on Didier's paddleboard. This was an unforgettable experience for two people, lulled by the waters of the lagoon and the sound of the waves. Taking the time to reconnect. This is what was in store for our morning with Didier, who was waiting for us on La Saline beach.
Mindfulness Meditation
The first step in this experience of listening to our senses was to learn to breathe better. We felt the gentle breeze as we closed our eyes to fully relax. Didier's advice guided us in the discovery of a calmer, deeper, more relaxing breathing. "Breathing properly is something you have to work on," he insisted gently. "Try alternate breathing, breathing through one nostril and then the other, every morning, to jump-start your day."
A Massage on Water
It was then that we checked out our special massage table. In fact, the board didn't look at all like the traditional paddle board we imagined it to be. Didier converted it into a real floating massage table, with ergonomic cushions and a frame equipped with curtains, to protect us from the sun. We couldn't wait to settle in.
After we relaxed together, the massage was done in turns. While one sipped on a fresh fruit cocktail on a sun lounger, overlooking the ocean's translucent lagoon water, the other enjoyed a massage. Then the other person takes their turn.
I climbed onto this strange boat first. Once my head was on the cushion, I was in total darkness. Didier applied pressure on every part of the body: the back, legs, feet, hands, and neck. There's no need for massage oil here, he simply moistened his hands with sea water. It felt nice. Coincidentally, it's more environmentally friendly to the lagoon's fragile ecosystem.
Not being able to rely on sight, all my other senses were heightened, which only added to the benefits of the massage. The gentle touch of the sea breeze on my skin, the micro-change in temperature I felt as I let my arms float, and the sound of the waves crashing on the coral reef – these were all new sensations. I felt my stress melt away as I was lulled to sleep by the tranquil lagoon waters. If only this moment could last longer!
Afterwards, it was my turn to give up my spot, and to return to the beach. Didier encouraged me to settle down on my sun lounger and to enjoy a tropical fruit juice, to gently bring me back to reality. I sipped on this refreshing cocktail while I admired the lagoon.